Ripple's impending lawsuit has started to take effect in the market, following SEC allegations of its failure to register as a security. Major corporations have started suspending XRP trading for legal complications.
As of today, the 25th, prices of XRP have heavily plunged to 0.34 cents from an all-high price range of $3.4. This could be due to the OSL, a Hong-Kong based trading platform, announced its halt in trading XRP in light of the impending lawsuit.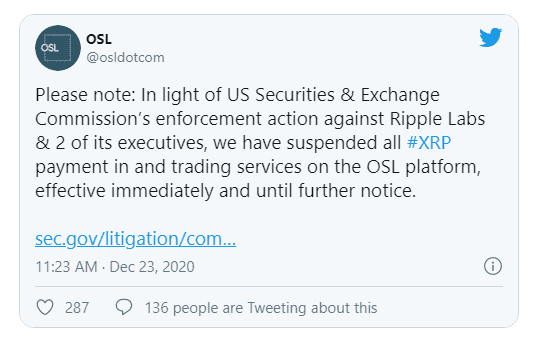 Wayne Trench, CEO of OSL, said that this move was part of OSL's rigorous compliance for assessing whether certain digital currencies are suitable for trade on their platform, and thus the XRP withdrawal.
Bitwise Asset Management, a crypto fund based in the US, has announced that its Bitwise 10 Crypto Index Fund will not invest in assets that might be deemed illegal under security laws. XRP had a 3.8% share in Bitwise before the liquidation, and all these assets got re-invested to other portfolios after suspending XRP trading.
According to a press release by Hunter Horsley, CEO Bitwire, the company policies does not allow investment of asset that have legal legitimacy issues with federal or state securities laws. Bitwise's liquidation decision was made after a keen evaluation of the nature of a lawsuit filed by SEC against Ripple.
Beaxy Exchange, a Chicago-based exchange, has also called it quits with the XRP currency. The company has gone off to claim that Ripple might have been conducting unregistered security sales, and they choose to withdraw until further notice.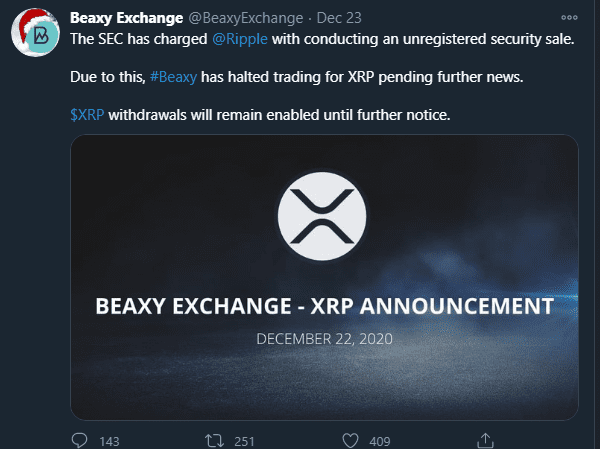 Cross Tower decided to also retract from the acclaimed security offering by suspending XRP trades in the US regions. Its non-US-based customers, however, will still be able to trade XRP over the platform.
Will XRP Survive?
XRP stands as the fourth-largest cryptocurrency by market capitalization after Bitcoin, Ethereum, and Tether, respectively. By charging Ripple and its two executives, the SEC has successfully planted doubt among correspondent Ripple affiliates and, thus, their XRP withdrawals.
The only saving grace for Ripple at this juncture may be to win the lawsuit in order to restore wavering trust.