On Tuesday, the Ripple company was served a lawsuit by the US Security and Exchange Commission (SEC). This lawsuit's bearing is on Ripple's failure to register XRP with the agency as a security and its services a security offering.
The CEO took upon Twitter to express his disappointment with the agency in a string of tweets.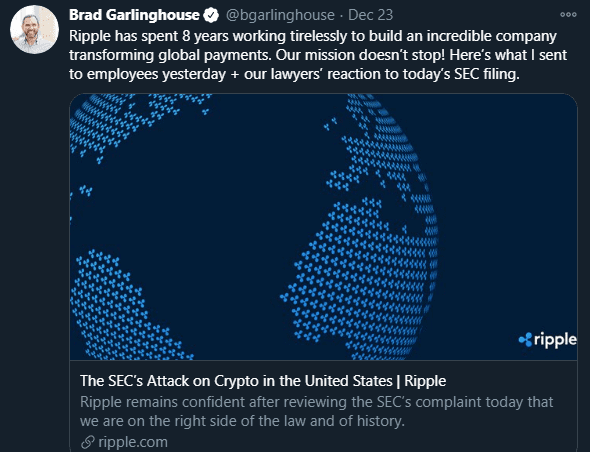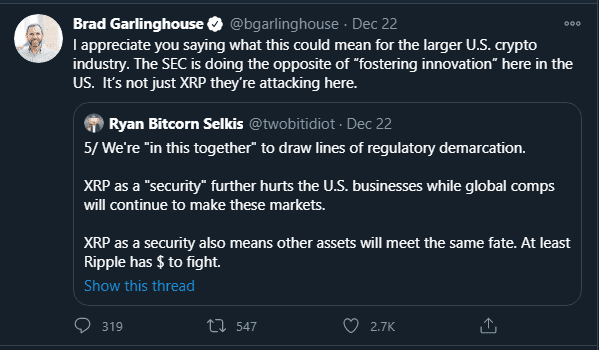 In an official report published on their website at ripple.com, Garlinghouse speaks out and declares that, After reviewing SEC's complaints, the company remains confident that they are on the right side of the law and history against the Ripple's lawsuit.
The company's lawyers are anything but intimidated by the whole fiasco. Andrew Ceresney, Debevoise, and Plimpton have come out and accused SEC of being completely wrong in considering XRP as an investment contract instead of a currency similar to Bitcoin and Ethereum.

Another set of Ripple's lawyers have termed the complaint as wrong by law and goes beyond the statutory authority mandated by the SEC

Major Retraction Pointers from the Report
Garlinghouse recalls the milestones Ripple has accomplished over the past few years, including new products and features such as the Line of Credit.
Ripple's vision in the cryptocurrency has remained intact, and they hold that XRP is a currency-NOT A SECURITY, for the following reasons;
It is not an investment contract. XRP's holders do not share profit nor receive dividends. They do not have voting rights and in no way directly connected to Ripple.

Ripple has shareholders and when If anyone wants to invest he or she buys Ripple's shares, not XRP's.

As a security would have it, the price of XRP would be directly related to activities within Ripple. This is not the case here; XRP's price correlates with the movement of other digital currencies, not the company's activities.
As Brad proclaims, Ripple's lawsuit might be the stumbling block that causes a snowball effect for other market makers. Maybe it is a move by Trump's administration to jam up Biden's reign?
We hope true justice will be found, and Ripple will once again emerge strong and focused.