You've probably come across the term arbitrage before. Especially now when Cryptocurrencies and cryptocurrency trading is at the headline for a majority of traders today. The Cryptocurrency ecosystem continues to mass-produce innovative products, and as a result, Cryptocurrency's mass adoption may be possible now.
The emergence of cryptocurrencies was made possible by a myriad of factors that played vital roles. Some distinct roles were its notorious volatility and its evolutionary nature of being compatible with modern and traditional trading such as Arbitrage.
With over 2000 different Cryptocurrencies, each unique to their prices, trends, liquidation, market caps, and its notoriously volatile market, Cryptocurrencies become the perfect candidate for Arbitrage. In this article, we'll discuss what Arbitrage is and how Cryptocurrencies are the ideal option for Arbitrage trading.
What is Arbitrage?
Arbitrage trading, often abbreviated as ARB, is a type of trade that profits from market inefficiencies. Traders buy and sell similar assets simultaneously, enabling them to benefit from the mismatch in prices. Traders are always on the hunt to find similar assets across different markets to gain capital. Arbitrage is often termed as a risk-free way to profit from pricing disproportions.
While Arbitrage may attract people with its 'risk-free' title; However, finding the ideal Arbitrage opportunity and executing it can be quite challenging.
Significance of Arbitrage trading
There are various benefits of Arbitrage trading; however, one distinct factor is the lack of risk. The term 'risk-free' doesn't necessarily mean that Arbitrage trading is entirely risk-free; instead, the term is much looser than that.
Arbitrage trading doesn't inherit the high-risk properties of most trading methods because arbitrage trading is executed rapidly. Moreover, another factor that attracts traders to arbitrage trading is guaranteed profits.
Traders utilize two effective strategies to succeed at Arbitrage trading.
Executing a large number of transactions
Executing large transactions but in moderation.
The mismatch of asset prices is often relatively minimal; therefore, traders manipulate the discrepancies by scaling their profits through the mentioned trading methods.
The Significance of Arbitrage in Cryptocurrency Trading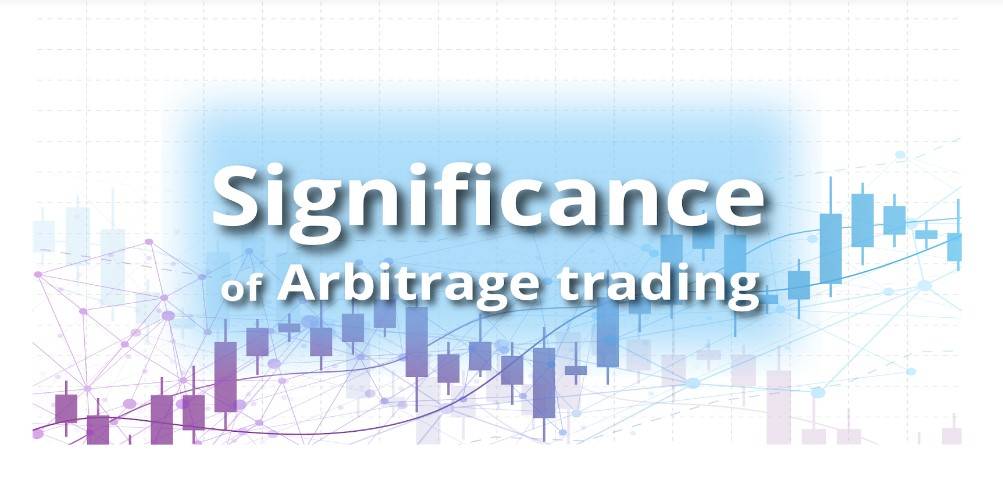 The cryptocurrency ecosystem is always growing and fluctuating. The notoriously volatile market is a gold mine for Arbitrage opportunities. There are many factors at play that make cryptocurrencies in the ideal candidate for Arbitrage trading, such as
Their Digital Nature
Cryptocurrencies are a nascent asset in comparison to the millennia-old Gold Market.
The Cryptocurrency ecosystem is always driving towards newer developments.
Investor Speculation
Media Speculation
And average investor profiles.
With that said, millions of traders and companies today are working tirelessly to capitalize on the volatile ecosystem and discrepancies in liquidity that may exist between different exchanges.
Coherently, price discrepancies maybe even more minuscule when it happens to be the cryptocurrency market. With over 80% of the Market Capitalization of the ecosystem divided among the top 20 Crypto coins and tokens, it can take a lot of capital or frequent trades to gain profits.
However, many traders use leverage to increase their profits and generate high returns on crypto arbitrage. The cryptocurrency ecosystem is volatile, fast-paced, and unpredictable, and only those who act fast are rewarded. To keep up with the ecosystem, traders often utilize crypto trading bots to gain an edge over other traders.
Importance of Cryptocurrency Arbitrage Trading
As mentioned, Cryptocurrency is an ideal asset for Arbitrage trading because of many factors that allude to its ecosystem's nature. There are many other benefits of Cryptocurrency Arbitrage Trading that most traders abide by even today;
Quick Profits
Arbitrage trading is an exception tool to increase one's capital and gain quick profits. The rapid fluctuations in the cryptocurrency market make it a good asset.
Avenue of Opportunities
With over 500 different exchanges, the cryptocurrency ecosystem is enormous, considering it is still in its nascent stages. Everyone wants to shift towards the ecosystem, and with that, more opportunities enter the market.
Cryptocurrency is still in its nascent stages.
Cryptocurrencies are still new compared to many mature markers such as the millennia-old gold market. Cryptocurrencies have only been out for a decade.
Lesser competition
Because Cryptocurrency is still in its nascent stages, not every trader wants to transition into the ecosystem. Many are still skeptical about it.
Unpredictable Price differences
Cryptocurrency Prices may include dispersion from 3% to 50% (in extreme cases) because of the Volatile and unpredictable cryptocurrency market.
The Types of Strategies in Cryptocurrency Arbitrage Trading
There isn't just one single strategy that will give you consistent profits; trading is a creative field, the more creative, fast-paced, and knowledgeable you are, the higher the reward.
Crypto traders use many different strategies tailored with sophisticated tools, complex technical analysis, command over trading fundamentals, and intuition. However, some common strategies circulate among upcoming traders before they try the most advanced strategies.
 Basic Cryptocurrency Arbitrage Strategy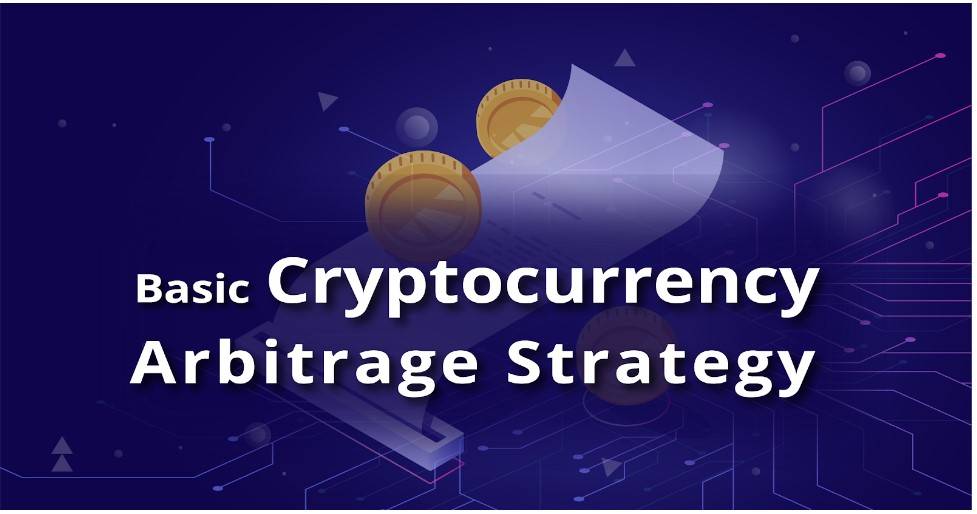 Traders expect to capitalise on price disproportions of the same asset over different exchanges. Traders often hunt these price discrepancies between the same token across different exchanges. Traders buy the tokens at a lower price from another exchange and sell them for a higher price at a different exchange.
By doing so, Traders mitigate risk. Since this strategy is fundamental and straightforward, new and upcoming traders tend to use this trading strategy more often to learn how the market works.
Triangular Arbitrage
Triangular Arbitrage is a strategy that implies monitoring the exchange rates between three distinct crypto assets to discover any disproportions in the prices. For example, Traders monitor the prices between BTC, ETH, and BNB on Binance. If the exchange rate of two pairs has a mismatch, traders can capitalize on the opportunity.
Let's say BTC/BNB trading pair rate was calculated as 500, while BTC/ETH rate held at 49, the ETH/USDT rate hovered at the 148 mark, and the BNB/USDT rate steadied at 15.
The USDT here plays an essential role as an intermediary since there is no BNB/ETH trading pair. Traders monitor prices and manipulate disproportions in their prices into their liking.
Crypto Arbitrage – The Risks involved.
Traders are often lured by the 'risk-free' or 'low-risk' tags; however, there are some drawbacks, risks, and challenges. Regulations such as KYC laws and Anti Money laundering legislation are implemented among most exchanges today.
Under ecosystem's nature those regulations, exchanges today require a collection of documentation for verification and identification. Moreover, exchanges can set withdrawal limits on your account if it looks sketchy to them. Most exchanges can monitor your withdrawal request to determine suspicious activity.
Some other forms of drawbacks are lack of security across lesser-known exchanges, the potential of hacks, withdrawal fees, and more.
Moreover, note that cryptocurrency arbitrage works ideally when you trade cryptocurrency in high amounts. To generate ideal profits, traders must scale up their trades.
Conclusion
Cryptocurrency Arbitrage trading is lucrative and filled with opportunities. There are plenty of options in the space, from manual arbitrage trading to platforms that enable traders to gain capital in their sleep. Arbitrage trading; does come with their share of risks and drawbacks; however, it doesn't outweigh the benefits.