Cryptocurrency is a very enticing investment due to the breadth of potential techniques. Are you planning to purchase and hold? Are you intrigued by the concept of crypto lending? Is margin trading appropriate for you?
Certain elements of your crypto exchange will be required based on your trading strategy. With so many exchange opportunities available, how can you decide which one is best for you?
Kucoin and Binance are both well-known cryptocurrency exchanges. Even though the platforms have a similar business model and charge a comparable price structure, there are some subtle distinctions between them. You're more than likely to find that either Kucoin or Binance meets your personal demands somewhat better.
We shall explore Ku Coin or Binance in further detail below: Which one is more beneficial to you? so that you can choose which exchange is the greatest fit for you.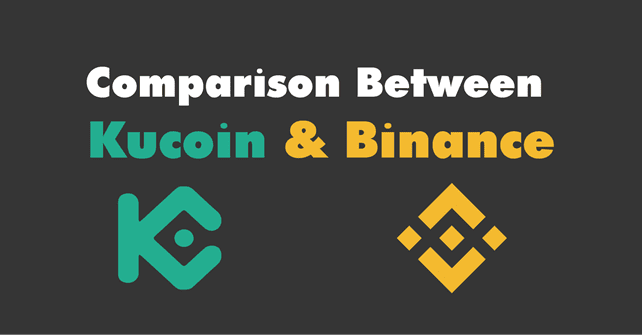 A Comparison between Kucoin and Binance
Kucoin and Binance both follow a similar business model. They are cryptocurrency exchanges that provide access to hundreds of alternative currencies that are often difficult to get. They use a similar fee structure, beginning at 0.1 percent and decreasing as you progress through the trading stages.
Binance vs. Kucoin, each has its own cryptocurrency, which users are rewarded for retaining. Additionally, they provide comparable services, such as a futures market, crypto financing, a peer-to-peer marketplace, trading bots, and margin trading.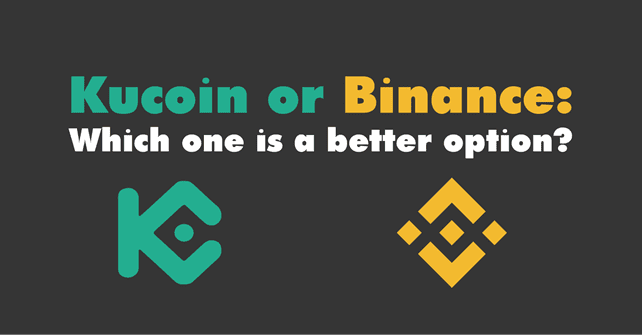 Kucoin or Binance: Which one is a better option?
Consider the distinctions between these two cryptocurrency trading sites for a moment.
Intro to Kucoin:
Kucoin's headquarters are in Hong Kong. The crypto exchange, which was originally based in China, was forced to relocate following a government crackdown on cryptocurrency.
Kucoin's business strategy is based on the availability of a large number of different crypto assets for users to choose from. Given its excellent safety record and cheap fee structure, it is an excellent choice if you are seeking a crypto exchange to use for your cryptocurrency trading needs.
 Intro to Binance:
Binance's headquarters are in Hong Kong. Its business concept is quite similar to that of Kucoin, in that it provides access to and ease of trading across a wide range of cryptocurrency assets.
In order to participate in the lowest membership categories, a Binance ID is not required. If you do not require access to a higher level of membership, you can remain anonymous on Binance if you choose not to. Binance is a cryptocurrency exchange platform that has over 13 million members and is quite popular.
What's the Difference Between the Two?
Kucoin and Binance operate under a similar business philosophy and charge fees in a similar manner. A large majority of traders would regard the selection of assets, quality of security, and customer support services offered by the two platforms to be equivalent.
It is worth noting that there are minor variations between the platforms, and you may discover that either Kucoin or Binance may meet your requirements significantly better.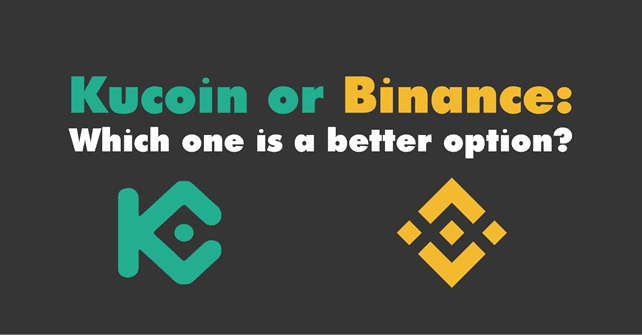 Compare of Fees between both platforms
Both Kucoin and Binance charge 0.1 percent. With each trade tier, the charge % falls.
KuCoin Transaction Fees
More aggressive tier system with lower costs for higher-tier customers.
Kucoin is the obvious winner if you plan to trade significant quantities and level up. Kucoin also pays out 50% of exchange profits on its token.
Binance Transaction Fees
Binance has no deposit and withdrawal costs vary per asset. The Binance cryptocurrency is used to pay platform fees. Binance's fee structure is preferable if you are a tiny trader who stays in the lower levels.
Binance is the clear winner if you use the futures market. It beats Kucoin's taker fee.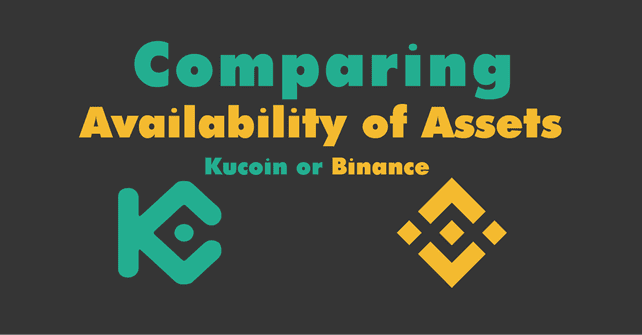 Comparing Availability of Assets
Both services promise access to hundreds of hard-to-get cryptocurrencies. So it's no surprise that Kucoin and Binance have a large range of assets.
Binance has 242 altcoins. With 179 coins supported, However, the ordinary crypto trader is unlikely to be disappointed with Kucoin's decision.
Binance allows trading using its token and Tether. Kucoin allows trading of its token, Tether, NEO, and BTC Cash. Token trading makes Kucoin more versatile. But Binance's trading fees are competitive.
When evaluating assets, consider your trading style and needs.
Final Thoughts
The cryptocurrency exchanges Kucoin and Binance are both well-known in the cryptocurrency community. They both operate under a similar business model and levy fees that are equivalent.
The majority of traders would consider the asset selection, level of security, and customer support services provided by the two platforms to be comparable.
It is possible that Kucoin or Binance will be a better fit for your needs than the other platforms due to small differences in design and functionality.
MyCryptoParadise offers a host of benefits to its customers, regardless of the platform they use to access the service. If you live in a country where Binance is not permitted, you may be able to benefit from our Kucoin ParadiseFamilyVIP plan, which is designed specifically for clients in the United States of America and other countries where Binance is not permitted or outlawed.
About MyCryptoParadise:
MyCryptoParadise has over 6 years of experience in providing cryptocurrency trading signals which could easily be lauded as some of the best signals in the market today. Our platform holds this status because we continue to offer some of the most intuitive technical analysis, educational content, current updates, and news reports in the industry that greatly benefit our customers by allowing them to take the edge over their competition.
A key component in the investing philosophy of MyCryptoParadise is the goal of providing subscribers with the most lucrative signals while limiting the likelihood of a loss. We provide trading signals for cryptocurrency pairs traded on exchanges such as KuCoin (our kucoin ParadiseFamilyVIP is focused on customers who live in the USA or countries where Binance is illegal or banned), Binance, ByBit Kraken, and others. Not only that, but MyCryptoParadise also provides insights via educational trading analysis on platforms such as TradingView, Youtube, Telegram and Facebook and Instagram.
MyCryptoParadise caters to traders of all levels of expertise, whether they are novices or seasoned professionals. Unlike other crypto channels on Telegram- We are a professional trading company; we offer both free and premium signal groups where members enjoy the benefits of expert trading advice and signals. With our ParadiseVIP Membership, you can gain access to a personal crypto expert to help you with the basics, teach you how to execute our trades, and give you insights about the risk and fund management techniques that we use.
Moreover, we also offer an introductory call with one of our experts once you join us before you start trading. Don't believe us? check what our happy customers have to say.
Join us and become part of a thriving community of members who are taking their trading game to the next level.
Use our discount BESTTRADERS3% to get an exclusive 3% discount on your premium membership today!