More than a decade ago, the world was exposed to the concept of cryptocurrencies, and as time passed, we saw a plethora of cryptocurrencies enter the market. Surprisingly, as the number of cryptocurrencies increased, so did the need for exchanges grew stronger within the crypto-market. We saw a number of centralized and decentralized exchanges enter the market and grow in popularity in just a matter of months.
Fast forward to today, and we have a myriad of cryptocurrency exchanges giving incredible features to their users. Binance, Bitmex, Bybit, Huobi, Kucoin, and many more contribute to the majority of recognizable exchanges today. All exchanges have their own following, users prefer one exchange over the other based on different choices (which are both personal and technical). Regardless of market preferences arguably Binance is by far the most recognizable brand within the cryptocurrency exchange business. In this article we are going to explore whether there is any proof of Binance's prevalent popularity and what makes Binance's brand so recognizable within the cryptocurrency landscape. We will compare Binance to other popular trading platforms by discussing their key features and also comparing their pros & cons.
Before diving into the subject of determining what makes Binance the most popular among cryptocurrency trading platforms. It's best to under cryptocurrency trading signals. Trading Signals or Signals in short are a collection of trade related instructions that a user receives via a communication medium (email, SMS, or Telegram Group etc.) that tells them what token to buy, when to buy and when to sell, and so on. The most significant benefit of these crypto trading signals is that they advise you exactly how to generate money with minimal risk. This is what makes it so exciting, and it is critical to employ crypto trading signals regardless of the crypto exchange you use.
So, now that we've established what crypto trading signals are? It will be much easier for you to understand why Binance is a good trading platform for you.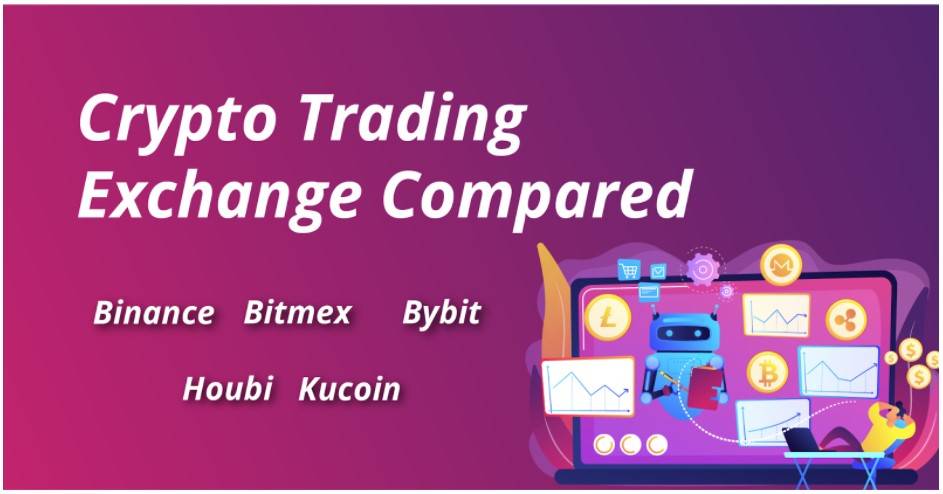 Binance
In 2017, Binance launched a cryptocurrency exchange focused primarily on altcoin trading. Binance provides more than a hundred unique trading pairings for different cryptocurrencies. Furthermore, there are a number of fiat-crypto pairings available as well.
Among all the crypto trading avenues, Binance dominates the global exchange industry as of July 2021. With more than 500 different cryptocurrencies accessible to non-U.S. customers, Binance is well-known for having a large selection of altcoins. The Binance.US exchange, on the other hand, only supports 52 currencies.
It is a great exchange for those looking for more advanced charting than most other exchanges offer. Your account comes with amazing tools, graphing capabilities, and data, especially considering the cost. Another reason for Binance popularity is that it's very easy to find great trading signals for Binance. We will cover other advantages and some shortcomings in the Pros & Cons section.
Pros & Cons
Pros
Fees are lower on the platform than on other frequently used exchanges
Various cryptocurrencies are available on the exchange, along with a wide range of trading pairings
More sophisticated charting makes trading easier
Best exchange for trading altcoins
Cons
It does need some skill and is best suited for more skilled users
The exchange does not support all states
Now that we have seen the pros and cons of Binance, let's take a brief look at the other exchanges in the list.
Bitmex
By combining margin trading (also known as leverage) with cryptocurrency contracts, BitMEX allows traders to purchase and sell cryptocurrency contracts (rather than actual coins). Even though it works with many cryptocurrencies, it is only compatible with Bitcoin (deposits, withdrawals). Traders with experience are the primary target audience of the platform.
Pros & Cons
A lot of new users can experience problems with the exchange because it is not suitable for everyone. This platform is very difficult to use for anyone who does not have a lot of technical expertise.
Bybit
Since its establishment in 2018, Bybit has grown quickly to become the world's leading cryptocurrency derivatives exchange. With Bybit, you can trade leveraged contracts and crypto perpetual contracts. Currently, there are more than 1.6 million active users.
The British Virgin Islands-based company has offices in several Asian countries, and its headquarters is in Singapore.
Pros & Cons
Despite being a popular platform, it isn't tied to any regulation in any country. This has the potential to become a very serious issue since it raises concerns about its security.
Houbi
Huobi Global, a global crypto exchange that offers users a platform to trade cryptocurrency, supported by various altcoins and stablecoins, with its own creation – HUSD – which is tied to USD, recently underwent branding changes. A leading cryptocurrency exchange in Asia that caters to Asian customers, Huobi was founded in 2013. HT is a utility token that Huobi also intends to sell and is working hard to encourage its use for contests, fee reductions, voting on specific topics, and other activities.
Pros & Cons
There are many features available on the exchange, which provide traders with a lot to choose from. Although they have made certain business choices over the years that aren't good for everyone. Moreover, some users complain about the navigation of the website.
Kucoin
Trading and investing in cryptocurrencies through KuCoin is open to traders and investors of all experience levels and risk tolerance levels. The PC, Android, and iOS platforms provide a basic interface that allows users to explore the site's many features. Through beginner settings and gamified apps like Futures Brawl, KuCoin assists users in gradually learning to use the various instruments. For anyone who wants to experience trading goods that can't be found on other exchanges, it's a good platform.
Pros & Cons
The platform is great in terms of security, availability of cryptocurrencies and anonymity. However, there is a big issue of trading volume which is low on the platform and can become a problem for traders.
Conclusion
Every cryptocurrency trading platform we have discussed today have its own set of advantages and disadvantages. The way a trader chooses to use these platforms and benefit from different features is determined by his skill level and experience.
The vast majority of the cryptocurrency trading market needs a reliable trading platform which offers them access to numerous crypto currency trading pairs and advance trading tools. Among the competition Binance has really established itself as one of the top exchange platforms owing to the wide range of services it provides. Secondly, even if you are a novice trader, you may benefit from Binance by following a reliable crypto signals source (which have been explained earlier). So, the greatest crypto signals to follow are available on Telegram, and with this app, you will be able to find fantastic crypto signal providers that are really competent and can assist you in making money in crypto trading without any technical knowledge.
About MyCryptoParadise:
MyCryptoParadise has over 6 years of experience in providing cryptocurrency trading signals which could easily be lauded as some of the best signals in the market today. Our platform holds this status because we continue to offer some of the most intuitive technical analysis, educational content, current updates, and news reports in the industry that greatly benefit our customers by allowing them to take the edge over their competition.
We have established a brand through hard work and repeated success from our market insights. Our customers have had their fair share of profitable trades and gains in the market thanks to our advice and analysis. We're also happy to share that we consistently produce top-class educational content on platforms such as TradingView, Youtube, Telegram and Facebook and Instagram where we provide in-depth and valuable content that enables customers and upcoming traders to elevate their trading game to the next level.
Unlike other crypto channels on Telegram- We are a professional trading company; we offer both free and premium signal groups where members enjoy the benefits of expert trading advice and signals. With our ParadiseVIP Membership, you can gain access to a personal crypto expert to help you with the basics, teach you how to execute our trades, and give you insights about the risk and fund management techniques that we use.
Moreover, we also offer an introductory call with one of our experts once you join us before you start trading. Don't believe us? check what our happy customers have to say. Join us and become part of a thriving community of members who are taking their trading game to the next level.