On Thursday, 8th Jack Dorsey the CEO Square and the Chairperson Twitter made a press release to inform Square stakeholder of a $50 million investment translating to 1% of the company's total asset.
According to Square cryptocurrency is a tool of economic empowerment and opens up opportunities for business and individuals to participate in the global monetary system. Something that is in align with Square's company's purpose
The Square CFO Amrita Ahuja added that she believes that Bitcoin has the potential to dominate and become the future single currency. Thus, the firm's decision to invest up to 1% of its total asset in cryptocurrency puts Square a step ahead amid its competitors.
Upon the announcement, Bitcoin prices escalated by 2.5% while Squares share value popped up by around 1%.
Despite the year roiled with the coronavirus pandemic hurdles, Bitcoin is has risen from $7,100 in January to $10,724 as at October 2020. However, according to CNBC March analytics, Bitcoin did drop to about $4,900 when Covid-19 impact on cryptocurrency was at its peak.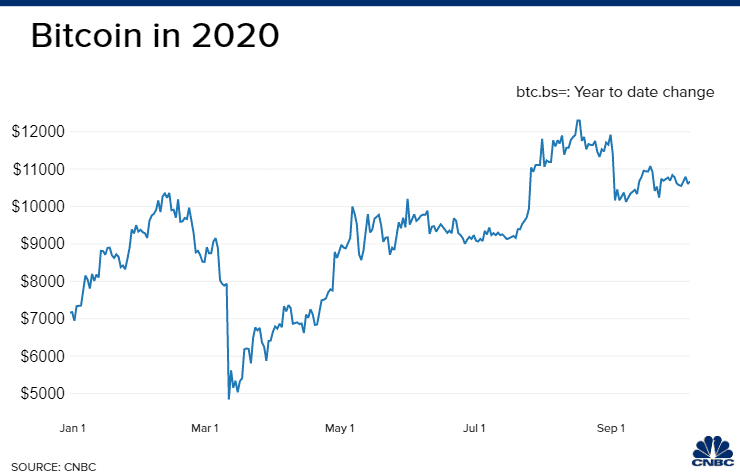 Square has become the second tech-firm after MicroStrategy to go along with bitcoin in the past few months. MicroStrategy a renown business intelligence firm made a preference to choose cryptocurrency as its main reserve asset. According to Michael Saylor the CEO, MicroStrategy purchased 38,250 bitcoins worth $425 million as part of its asset allocation.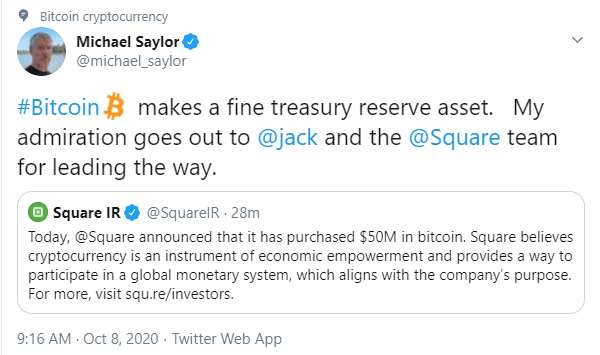 Unlike MicroStrategy, Square's Bitcoin investment is more inclined towards its business services and cooperate identity. Square's Cash App is playing a critical role in many bitcoin retail investors. The app is taking the lead as a revenue driver for the publicly traded digital assets.
For the past 11-years of bitcoin existence, it has been characterized by volatility and high transaction costs. Making it less attractive to as a daily payment method for most traders. Conversely, Bitcoin is becoming the most assured way to store large asset value, hence referred to as "digital gold." Besides, cooperate entities now prefer Bitcoin as a hedge to global economic threats including the current Covid-19 pandemic and spontaneous U.S. China and Russia trade war.