Michael Saylor the CEO of MicroStrategy revealed how his company used Over-the-Counter (OTC) trading exchanges to acquire bulk bitcoin at once. In his latest tweet, Saylor said he decided to use OTC instead of crypto exchange because it's the fastest way to transact and directly stores bitcoin securely in cold-storage.
MicroStrategy has become the first intelligence firm to buy bulk bitcoin as a digital reserve asset. On August 11, MicroStrategy announced its decision to purchase 21,454 BTC worth $250 million as a reserve asset to caution it against inflation.
Thereafter, MicroStrategy made the move to actualize its plans by purchasing additional 16,796 Bitcoins on September 15, adding up to intended target. According to financial analysts, more companies are likely to adopt bitcoin and stable altcoins as capital reserves.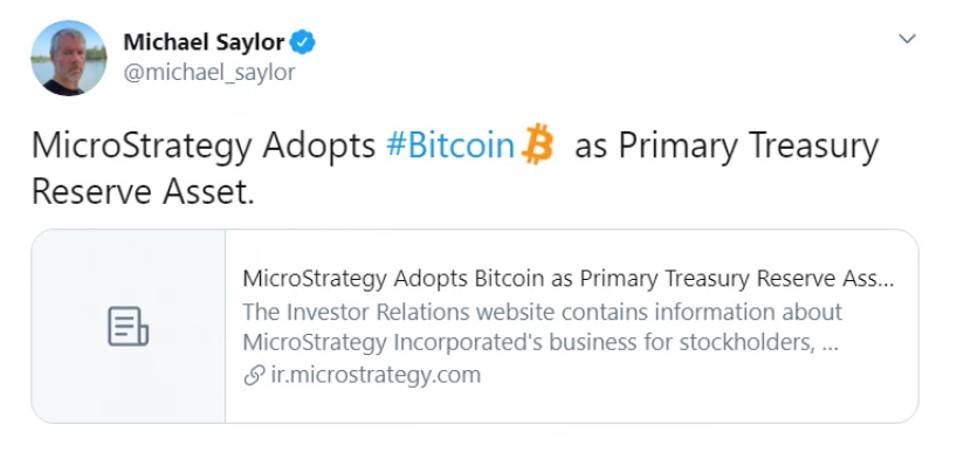 Saylor also revealed that off-chain purchases saved the company exorbitant transaction fees associated with on-chain crypto exchange. Saylor prefers using OTC markets with private dealer network as compared to crypto exchange. OTC markets have sellers that present their various offers in public for buyers to choose from.
While talking on a podcast, Saylor told digital co-founder Morgan Creek and Anthony Pompliano he wouldn't be able to give exact details of the bitcoin acquisition process due to security risks involved. However, Saylor shared key insights regarding big or institutional investors to adopt opt for OTC when transacting a bulk bitcoin. However, investors should be keen to check security and technology capability of the exchange.
He added that for big investors they would require institutional-grade custody solutions to mitigate potential hacking risks that are currently rampant in the unsecured crypto exchange. Investors should build a trustworthy crypto custodian to monitor and shield the system against all forms of security threat.
Despite the interest that MicroStrategy is developing towards bitcoin, some investors are yet to believe cryptocurrency as true storage of value. Taking a recent case involving Dave Portnoy an American internet celebrity, who had a bad experience when the bulk crypto-asset crashed a few days after buying the assets.