U.S district court headed by Alvin Hellerstein passed on a judgement in favour of the U.S. Securities and Exchange Commission ("SEC" or "Plaintiff'). The decision was for Summary judgement against Kik the "Defendant".
According to the Judge, Kik violated 5 laws of the US by selling unregistered securities. SEC filed a case against Kik for violating section 5 of the Security Act. SEC filed a case against Kik for violating section 5 of the Security Act. This comes after Kik had sold securities in the US without fully complying with registration protocols.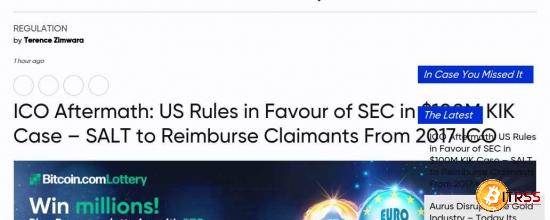 The ruling came after six months of both parties filing the motions for summary judgement that was meant to bring the court case to a stop without trial.
Kik, a Canadian freeware instant messaging mobile app that went with the same name created its cryptocurrency called Kin a way of monetizing the usage of the app. Kik become a high profile ICOS in 2017 and was able to raise close to 100 million USD while trying to build a Kin ecosystem.
The company made a sale of $50 million in Kin tokens from June to September of 2017 to a total of 50 investors. The investors thought they were getting the tokens at a discount and were enticed to buy the Kin for future security investment.
In September Kik held a sale of token that was public and during this sale it brought an additional $49.2 million. SEC decided to charge Kik  and on September 30, Alvin Hellerstein who was the judge made a response to both Kik and uance as stated by Howey test. The ICO participants had high-profit expectations. However, due to undisputed facts, SEC request for summary judgement, He determined that Kik's token sale in 2017 met the definition of security issHellerstein made his judgement which saw SEC win the lawsuit.
In a statement issued by Kik, revealed dissatisfaction in the judgement and stated that they will file for an appeal. The decision by the court is an automatic setback for Kik. However, the court judgement does not affect the Kin Foundation whatsoever. Despite the ruling, Kin tokens will remain to be the most used cryptocurrency.