MicroStrategy Inc. has bought approximately 2,574 BTC paying $50 million for the most valuable cryptocurrency, according to a U.S. Securities and Exchange Commission (SEC) filing.
The filing further states that MicroStrategy holds about 40,824 BTC in total. MicroStrategy CEO also confirmed the purchase through a tweet, affirming the purchase to be in line with MicroStrategy's Treasury Reserve Policy.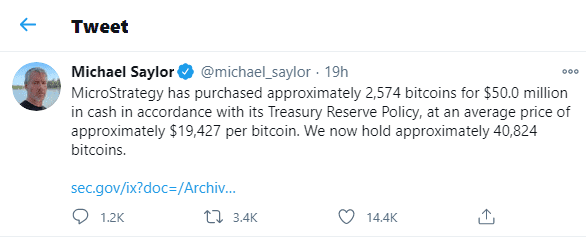 Earlier this week, BTC peaked at $19,914, shuttering its December 2017 $19,511 record, just a few tens of dollars from cracking $20,000. All through the week, the price has shifted between $18,400 and $19,500.
MicroStrategy (MSTR) has invested a combined $475 million in BTC on three different occasions. First, it paid $250 million for 21,454 BTC in August, adding another 16,796 BTC in September, then valued at $175 million before this latest $50 million purchase.
MicroStrategy's 40,824 BTC hold a current value of over $765 million, a good possible return given the investment. This number of BTC held is also the highest by a publicly-traded company in the United States. Other public companies that own BTC include Galaxy Digital Holdings (16,651 BTC) and Square (4,709 BTC).
Even with BTC's value rising to record high figures, more CEOs and corporations are showing support for cryptocurrencies, with projects to integrate them into their operations. The investors have primarily remained bullish given the market performance.
CEO Michael Saylor revealed to Bloomberg in September that MicroStrategy was purchasing more BTC as he sees cryptocurrencies as less risky compared to gold or cash. This is unlike gold bugs like Peter Schiff, who recently referred to cryptocurrencies as 'gold for fools.'
Those watching the crypto market indicate the market's progress, saying that this asset class has come of age. This positive indicator is based on individual companies' moves towards cryptocurrencies and supporting comments from notable investors like Stan Druckenmiller and Paul Tudor Jones.
Final Thoughts
Even with the comments, crypto markets are still volatile. This first week of December has seen prices soar and drop significantly in a matter of hours. Therefore, this investment by MicroStrategy Inc. could only be as good as the future holds.