Vocal Bitcoin (BTC) critic Peter Schiff has called out the latest bullish trend by cryptocurrencies, claiming that the trend is puffed. Schiff, a gold bug, accused Grayscale Investment of "fueling the bubble" through ads on mainstream media.
Schiff's claims arise from a recent tweet by Grayscale's Barry Silbert, through which Mr. Silbert said that Grayscale was bringing back the anti-gold ad to major TV networks.
"Grayscale brought back the original #DropGold TV ad today, which will now be running on major networks all over the country," Silbert tweeted on December 1.
Tweet Rant
The EuroPacific Funds founder went on a Twitter rant the same day, claiming that CNBC was setting a new low for financial journalism through Bitcoin's constant promotion. He claimed that such promotion 'legitimized' the cryptocurrency, thereby insinuating that the digital coin is a valueless asset. Schiff stated that many people would be lured to buy into the cryptocurrency through such ads only to lose out when the whales dump.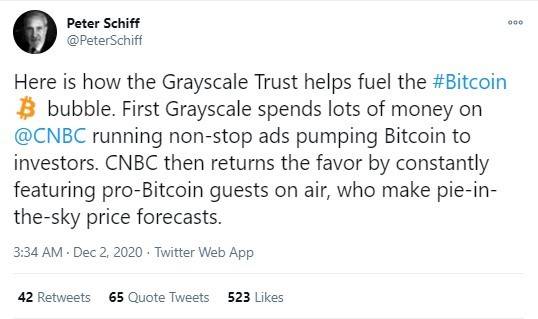 In the thread, Schiff also claimed that those 'pumping' BTC lie to HODLers that once the coin reaches a new high, more investors will rush in to buy and that the HODLers will end up losing significantly.
Schiff further claimed that in terms of market share, BTC has taken up a share of lottery and gambling but not gold. This tweet suggests that BTC is more of a lottery than it is an investment.
A Fitting Response
Countering Schiff's remarks, Silbert sarcastically commented that Schiff contacts his 'gold bug buddies' via a telegraph so that they could together launch an attack against cryptocurrencies. A back-and-forth between the two continued, and Schiff maintained his stance, calling BTC the gold for a fool and a step backward, unlike telephone's improvement over the telegraph.
Fact-Checking
Social media platforms have become popular for raising sentiments, and fact-checking is barely conducted before the information is relayed. Innocent users who come across such information may be polarized to pick sides and ignore rational analysis. For this case, Schiff has exhibited much dishonesty regarding the nature of BTC and cryptocurrencies, the level of which could result in fear and skepticism over digital coins. A thorough and independent analysis of the crypto market trends will be helpful for existing and potential cryptocurrency users.