Michael Saylor, the CEO of MicroStrategy, came to the spotlight once again after announcing that his company raised $600 million to allocate to Bitcoin instead of the expected $400 million. This move got the public curious as to whether MicroStrategy is turning into a Bitcoin Investment company or wants to become an exchange-traded fund (ETF).
MicroStrategy on Bitcoin Investment
On 11th August 2020, the business intelligence company bought $250 million worth of Bitcoin, followed by a public statement that claimed the cryptocurrency to be a  reasonable hedge against inflation.
On 14th September, the company acquired an extra 16,796 bitcoins at an estimated value of $175 million.
Additionally, before the close of September, the company owned 38 250 bitcoins at an aggregate purchase price of $450 million.
SEC on MicroStrategy Bitcoin Investments
In a filing presented on 11th September, Microstrategy revealed that its board of directors had embraced a new Treasury Reserve Policy that updated the firm's treasury management and allocation strategies.
The new policy dictated that the company's treasury reserve would be classified under two assets, Cash and Bitcoin.
The cash assets and short term investments exceeded the working capital needs and are held by the company. The second assets are in bitcoins owned by the firm and subject to volatile market conditions. This policy made possible further purchase of bitcoins by the company.
Why, then, the sudden Mass concern?
On Friday this week, Microstrategy announced that it had raised an additional $650 million to invest in bitcoin. Eyebrows got raised due to the fact that this amount was $100 million up the convertible senior boost sale of $550 Million the company had announced on Wednesday.
Now, the CEO is under scrutiny as to whether Microstrategy is turning into an exchange-traded fund (ETF) or an exchange-traded product (ETP). He replied in a tweet.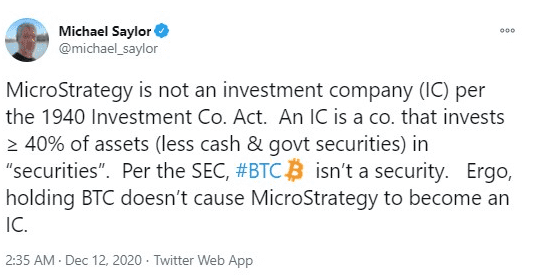 Critics slam Saylor
The Crypto community remains amazed at Saylor's trust for Bitcoin, but the sentiments are not mutual to everyone. Some claim that if bitcoin begins declining, Saylor will be sued by stakeholders for lack of having enough projects to cover the risks.