Litecoin has been ranked among the most popular cryptocurrencies among online shoppers in 2022, new data by CoinGate reveals.
It is not new that cryptocurrencies' involvement in online shopping is on the rise, with many companies increasingly adopting crypto as payments for their goods and services.
However, to get a clue of those crypto that are mostly used in e-commerce, a crypto payment processor CoinGate, has done research on the use of crypto in e-commerce, the study which was published on Wednesday, March 1 saw Litecoin (LTC) emerging as the fourth most used cryptocurrency in online shopping in 2022.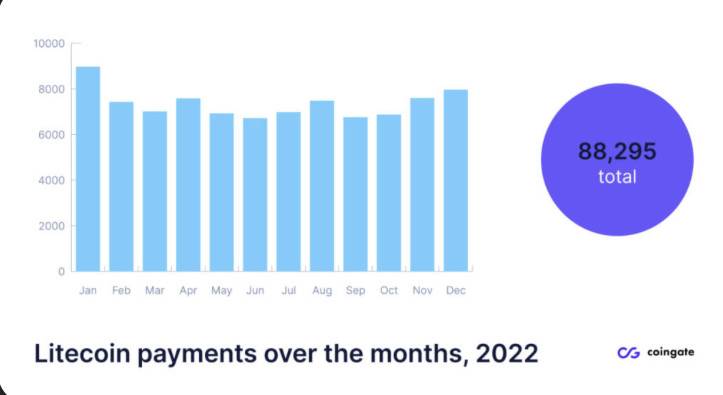 According to the research, LTC is involved in more than 88k orders, and 9.5% of the orders were handled by CoinGate last year, LTC is ranked behind Bitcoin, which top the list, followed by Tether's USDT, and Ethereum, the second largest cryptocurrency by market cap, only second to Binance.
Compared to 2021, LTC involvement in online crypto payment rose by over 6%, additionally, LTC is the most used cryptocurrency for online shopping in January 2022.
Litecoin is one of the largest cryptocurrencies in the crypto space by market cap, with a market cap of over $296 billion, according CoinMarketCap. LTC involvement in e-commerce has been on the rise since June last year, its increased involvement in e-commerce may be attributed to the speed of the network and the meager transaction fee.
Learn how to make money in cryptocurrency through personal interaction with one of the members of Paradise Team, there will be a personal professional crypto trading expert to teach you how to execute your trade and make a fortune on Binance, Bybit and KuCoin exchanges.
We share at least 3 best crypto trading signals per day, Use PRO20% for your special 20% discount today as the promo expires soon. Click here to see reviews from our clients.
Join our telegram channels where we share our FREE updates and analysis on coins like BTC, ETH, and other trending altcoins. We also share our FREE secret insights, and also FREE market updates.