The encrypted messaging app, Signal, gained massive popularity around January this year after the controversial Elon Musk touted it online. Now, the application accepts cryptocurrency donations.
Signal has partnered with the largest cryptocurrency donations platform-The Giving Block, to make possible anonymous donations. Collectible cryptocurrency donations are what the application developers use to pay for their servers and other upkeep necessities.
Why Should You Donate For Signal?
Signal is a messaging app that very precisely stands out from most similar apps because of its end-to-end data encryption. With Signal, users are able to send messages liberally without revealing any of its contents to third-party players.
Signal was flag-beared by the CEO of Tesla, particularly after Whatsapp forced its users to accept their updated privacy policy. A lot of its users felt their privacy terms were invasive, and in no time, millions of Whatsapp users switched to Signal in merely hours.
A non-profit foundation manages Signal at the moment, and our donations will go a long way in supporting the development team.
How to Make Donations to Signal
Every donation made will be processed by the donations platform-The Giving Block. Once on the website, users can donate in Bitcoins, Ethereum, and  Litecoin to the Signal Foundation.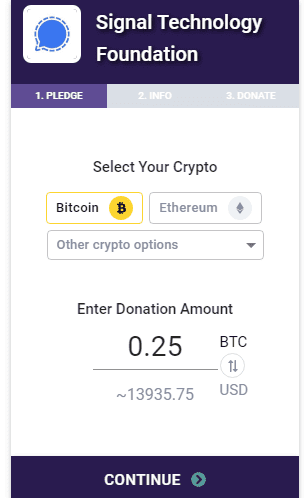 If you are from the US and wish to receive tax deductions for your cryptocurrency donation market value, you can provide an email address to receive a tax receipt.
Now that Signal Accepts Cryptocurrency Donations, there rise cases of concern on whether these additions may open app circumstances for abusive behavior and bring negative attention to their encryption technologies.
Employees at the firm assume it to be risky to include crypto payments as a means to draw criminals to the platform. Usernames run the risk of impersonifications and scams.
The world needs products like Signal, but Signal needs to be more thoughtful in its policies to deal with bad actors.