KuCoin is a Bitcoin and cryptocurrency exchange that provides traders with a simple and user-friendly platform. Despite the fact that it is a newcomer to the cryptocurrency trading industry, KuCoin has quickly established a reputation for itself because of its great features and educational content that is freely accessible to users. They have been successful in developing a platform that is well-suited to the requirements of cryptocurrency traders. In this KuCoin tutorial we will guide you through the process of opening an account on the platform and beginning to trade like a pro!
What is KuCoin?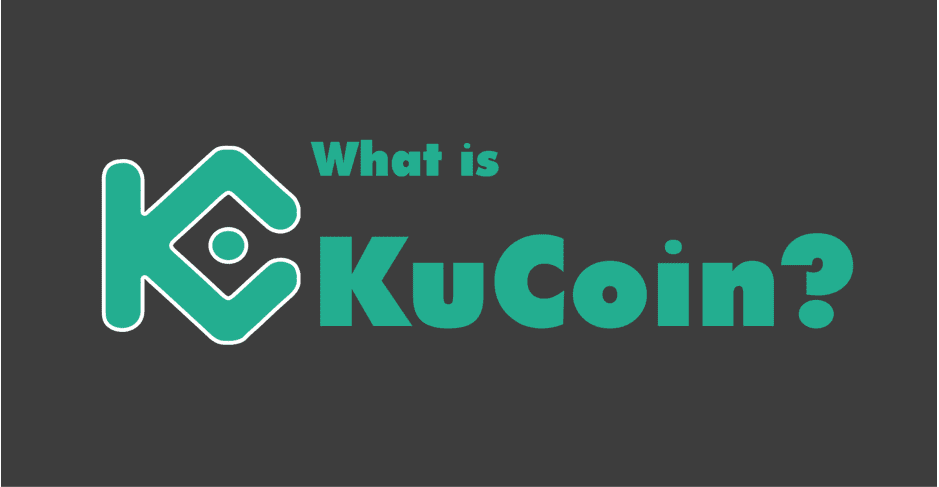 KuCoin is one of the largest cryptocurrency exchanges in the world, both in terms of user base and daily trading volume. It began operations in September 2017 and prioritises projects that have undergone extensive analysis by the company's research department.
Users from more than a hundred different countries can participate in trading on the KuCoin Platform. The platform has an easy-to-use interface, as well as prompt customer and technical assistance. In addition, they have a thriving traders' community.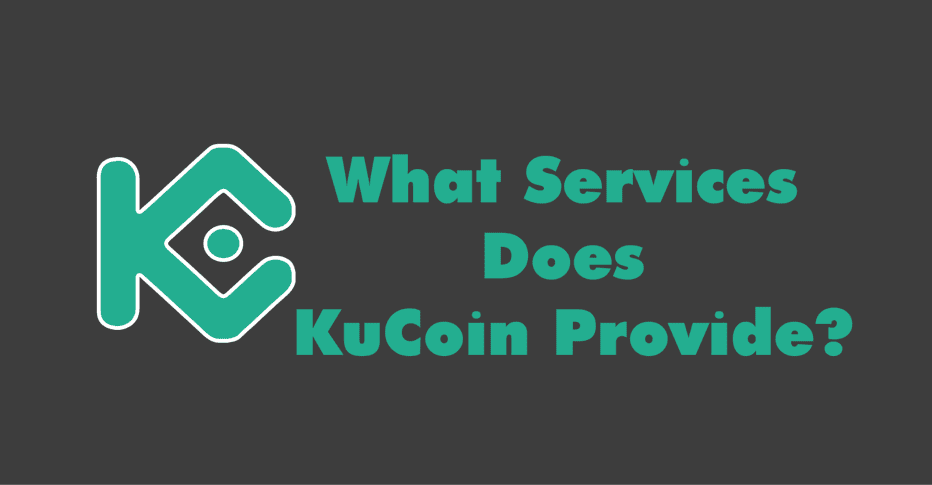 What services does KuCoin provide?
KuCoin may be familiar to those who are familiar with Binance, as it shares many characteristics with the world's largest cryptocurrency exchange in terms of functionality. KuCoin offers a greater number of currency pairs than Binance. KuCoin, in contrast to Binance, is well-known for launching new cryptocurrency pairs on a regular basis.
Let us review: cryptocurrency pairs are cryptocurrencies that can be swapped for other cryptocurrencies, just to refresh your mind. Bitcoin pairs are a term used to refer to cryptocurrencies that can be swapped for Bitcoin. Having gained popularity since its launch, KuCoin now supports over 760 trade pairs as well as more than 300 cryptocurrencies.
KuCoin also provides customers with the option to purchase cryptocurrencies directly from the platform. You have the option of making P2P (Peer to Peer) purchases, which are sometimes known as "off-exchange" purchases. To put it another way, this indicates that other users are involved in these transactions. Vendors connect you with one another and supply you with their bitcoin purchase pricing. You can also purchase cryptocurrencies directly on the platform with a credit card if you choose.
Besides that, KuCoin has its own Token, which is known as the KuCoin Token (KCS). KuCoin's Token (KCS) is listed on the site in the same way that Binance's Binance coin (BNB) is listed. The KuCoin Token (KCS) has increased the appeal of the platform by allowing users to take advantage of a variety of features. An individual who owns a large number of KCS tokens will earn more dividends and will pay fewer transaction fees as a result of their increased holdings. KCS can also be used to purchase other digital goods such as music and movies. KuCoin is unusual in that it charges a fixed fee for every transaction. Deposits are unlimited and cost nothing, while transaction fees are kept to a bare minimum.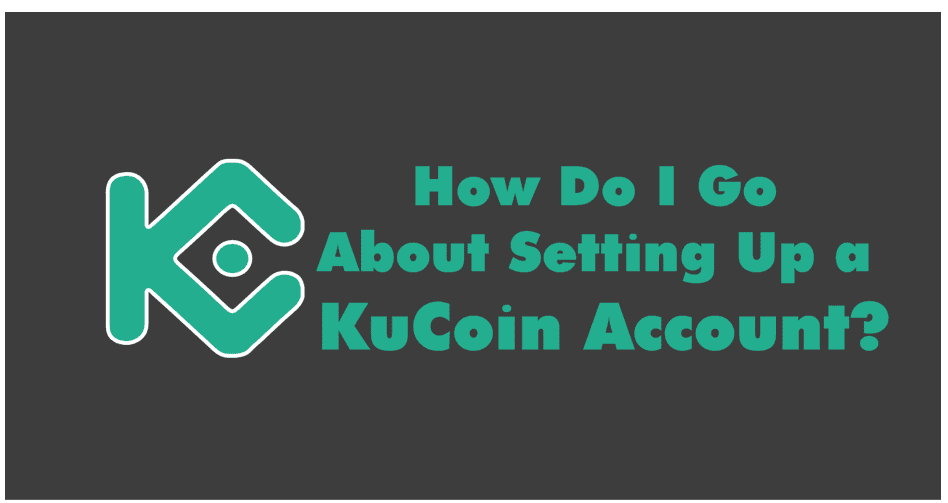 How do I go about setting up a KuCoin account?
KuCoin registration is a straightforward procedure. To get started, you'll need to go to the platform's official website or download their mobile app.
Once you've arrived at the main page, double-check that the language settings are set to the language you prefer. Then, to be taken to the registration form, click on the "Sign Up" button to the right.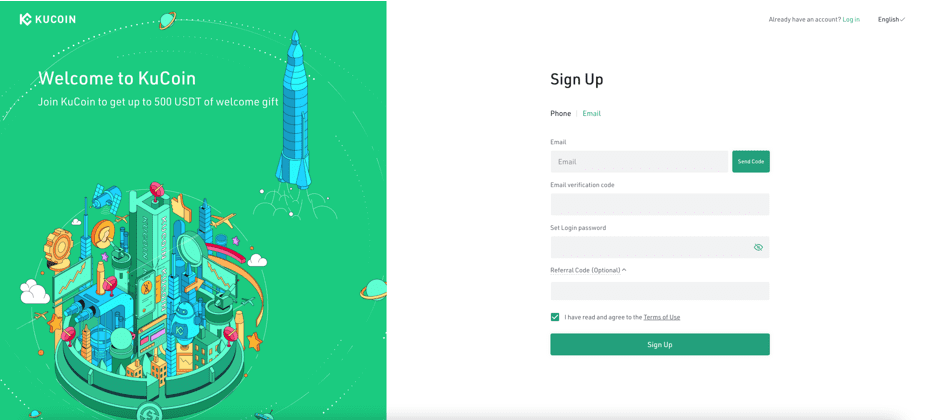 Registration can be done in one of two ways: either by phone number or by email address. If you choose the phone option, enter your phone number and then click on "Send Code" to send the code. Following that, the platform will provide you with a verification code, which you must input in the field to the right of this text box.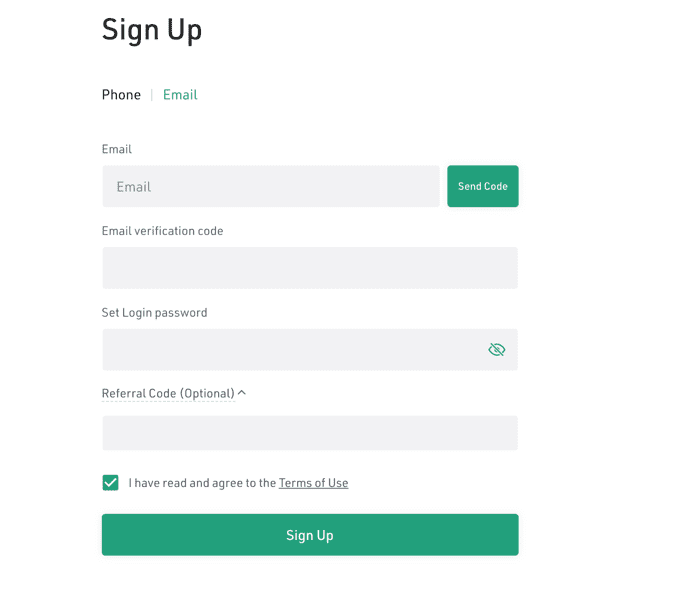 In the email option, enter your email address and then click "Send Code," which means you will receive the code through email if you choose this option.
Following receipt and entry of the code, the platform will prompt you to create an account password. To double-check your password entry, click on the checked-out eye icon to the right of the password box.
Please enter your referral code here if you have one; otherwise, disregard this portion of the page. While many people read the "Terms of Use" and merely click the box to indicate that they understand them, we strongly advise you to do so as well. After you've completed the fields, click "Sign Up" to begin the account creation process. Keep in mind that if you registered using your email address, you can always change it on the platform by visiting the account security page, and vice versa.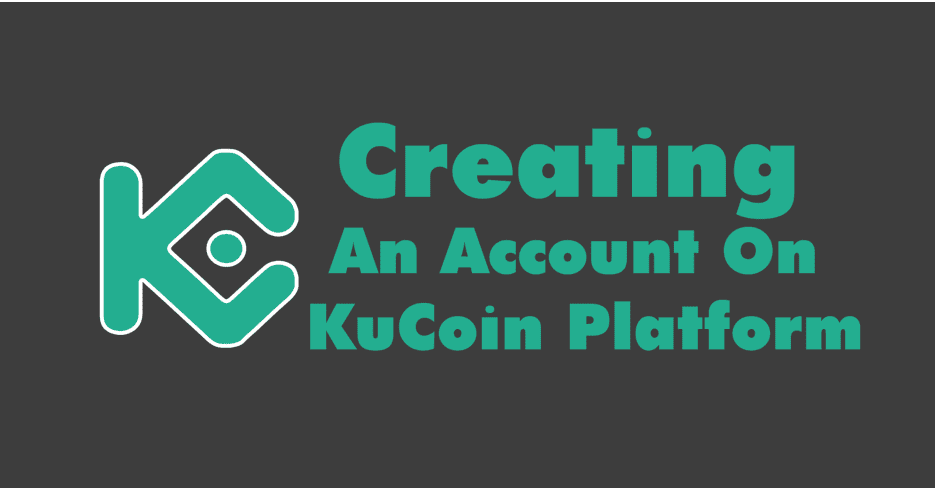 Accessing your account on the KuCoin platform
After you have made your account, we will look at how to log into the platform for the next section. Simply click on the "Log In" button and enter your email address or phone number, followed by your password to complete the login process.
It's worth emphasising that you may also join the platform by scanning a QR code, if you're interested. Select "with QR Code" if you want to view the QR code that needs to be scanned. The KuCoin mobile application on your smartphone will be required for login purposes if you select this option.
Start trading like a Pro on KuCoin with MyCryptoParadise Membership:
MyCryptoParadise has over 6 years of experience in providing cryptocurrency trading signals which could easily be lauded as some of the best signals in the market today. Our platform holds this status because we continue to offer some of the most intuitive technical analysis, educational content, current updates, and news reports in the industry that greatly benefit our customers by allowing them to take the edge over their competition.
A key component in the investing philosophy of MyCryptoParadise is the goal of providing subscribers with the most lucrative signals while limiting the likelihood of a loss. We provide trading signals for cryptocurrency pairs traded on exchanges such as KuCoin, Binance, Bitmex, ByBit Kraken, and others. Not only that, but MyCryptoParadise also provides insights via educational trading analysis on platforms such as TradingView, Youtube, Telegram and Facebook and Instagram.
MyCryptoParadise caters to traders of all levels of expertise, whether they are novices or seasoned professionals. Unlike other crypto channels on Telegram- We are a professional trading company; we offer both free and premium signal groups where members enjoy the benefits of expert trading advice and signals. With our ParadiseVIP Membership, you can gain access to a personal crypto expert to help you with the basics, teach you how to execute our trades, and give you insights about the risk and fund management techniques that we use.
Moreover, we also offer an introductory call with one of our experts once you join us before you start trading. Don't believe us? check what our happy customers have to say. Join us and become part of a thriving community of members who are taking their trading game to the next level.