For crypto traders, all activities are geared towards identifying promising projects, plugging into these projects, and gaining profit from their investment, whether long-term or short-term. Thus, crypto traders are constantly scanning the market to identify new projects to be added to their investment portfolio. Investors assess the market cap of coins, their circulating supply, daily transaction, and usability in a real-world scenario. Thus, one token that has been on peoples' minds is OKB.
If you do not know what OKB is, don't be bothered. This article will break down the key aspects of OKB for you, what it entails and represents. And importantly, we will discuss how to purchase OKB and the benefits it offers an investor. So, let us get right into it.
What is OKB?

OKB is simply the utility token of the OKEx crypto exchange. It was formed in 2018 and operates on the OKChain, working under the proof-of-stake consensus. As you must know, the proof-of-stake is much more efficient and decentralized than the proof-of-work, making OKB an efficient token. So, in simple terms, OKB is the token that aids the transaction of the OKEx exchange, it facilitates trades and other functions on the world's leading crypto exchange.
So, what is OKEx? It is a crypto exchange ranked among the top exchanges in the world by volume. It provides crypto services to over 20 million users in over 200 countries. When OKB was initially launched in 2018, it was launched as an ERC-20 token, under the Ethereum blockchain. But after the introduction of OKChain in 2020, it was migrated to the native blockchain of OKEx.
OKB functions as the token that enables payment on OKEx exchange. It gives voting rights to those who possess it, trading fee discounts, and OKEx's jumpstart initial exchange offering platform.
How to Buy OKB token?
Like many other tokens in the market, there are different ways to buy OKB. But we will discuss a few.
Buy on an Exchange and Transfer
One of the easiest means of buying OKB is to buy it on an exchange, then transfer it to your crypto wallet for safekeeping. Some reputable exchanges where you can buy OKB tokens include Gate.io and FTX. These crypto exchanges allow you to buy OKB through a simple fiat transfer from your bank. They also allow you to use your debit or credit card to buy OKB on their platform. But you have to sign up and have an account on these exchanges which is a pretty straightforward process.
After purchasing OKB through these crypto exchanges, you can now transfer it to your crypto wallet, using your wallet address. But ensure that the address is correct, as the transfer isn't reversible.
Buy OKB through Crypto Wallet
Alternatively, if you do not want the extra fees that come with transferring OKB from an exchange to your wallet. Then, you can buy it directly from your wallet. But note that this can't be done through fiat, as most crypto wallets do not support fiat deposits.
For instance, if you want to buy OKB on the Coinbase wallet, you will have to purchase it using ETH. So, you exchange ETH for OKB. All you have to do is open your Coinbase wallet app and log in. Then, transfer ETH to your wallet if you don't already have it there. When transferring, ensure that you accommodate transaction fees.
If you are using the app, under the 'Trade' tab, you will see an option to swap ETH for other tokens available. Simply, choose a coin and select OKB, after which you input the quantity of ETH you want to swap to OKB and confirm your swap. Follow the prompts to confirm the transaction.
If you are using the Coinbase wallet extension, the process is the same. The only difference is that instead of the 'Trade' tab, you select the 'Convert' tab. After a little while, your OKB will reflect in your wallet.
Pros of Owning OKB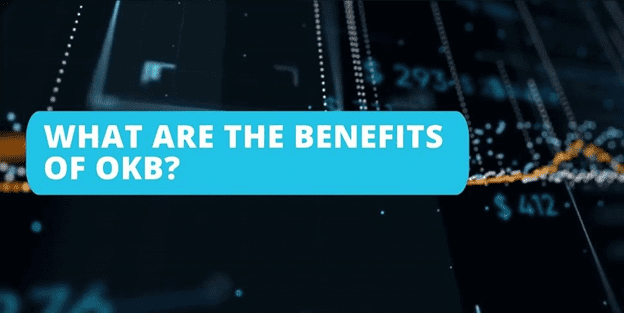 Here are some benefits of owning an OKB token.
OKB is a standard utility token of one of the largest crypto exchanges. So, as more traders use OKEx, OKB continues to increase in price and it is required by more users to transact on the platform.
OKB currently has a small circulating supply compared to its market cap. As of writing this report, OKB has a circulating supply of about 60 million according to coinmarketcap and a market cap of about 1 billion. This means that there is a huge gap for growth for OKB. This would be of interest to investors.
Holders of OKB enjoy discounts on trading fees charged for carrying out transactions on the OKEx exchange. The more OKB tokens you own, the more discounts you get on each transaction.
Holding OKB for a certain period gives users access to OKEx's Jumpstart session, which is simply its token sales platform. So, the more OKB tokens you hold for longer periods, the more you can access token sales.
Conclusion
OKB is the utility token of OKEx. More expansion for OKEx means more growth for OKB.
You can learn more about OKB and other tokens by joining MyCryptoParadise. Use our discount PRO5% to get an exclusive 5% discount on your premium membership today! Join the MyCryptoParadise telegram channel through this link.