Binance CEO, Changpeng Zhao, made a tweet pointing out that at $73 million, Ethereum's market cap had surpassed that of Spotify, GM, Baidu, Ferrari, and BMW. He also remarked that while still small, BNB's market capitalization is even bigger than Xerox's.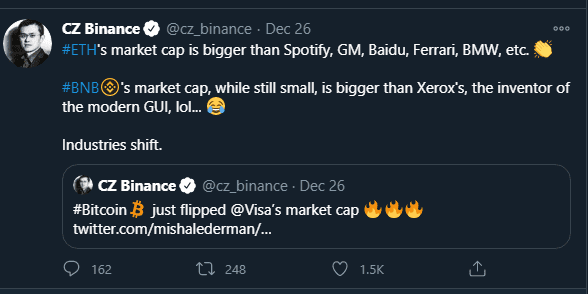 For a clear visualization, here are the respective market cap for these companies.
| | |
| --- | --- |
| Company | Market Capitalization |
| Ethereum | 80.9B |
| Spotify | 61.6B |
| General Motors | 59.5B |
| Ferrari | 36.3B |
| BMW | 47.2B |
| BNB | 5.5B |
| Xerox | 4.5B |
Industries Do Shift
Bitcoin is the first generation of decentralized cryptocurrencies and was launched officially in 2009. Since then, the coin has gained massive popularity and is now the best-ranked crypto asset at a $495.24 billion market cap.
Ethereum came around in 2015 as the second generation of crypto assets. Today, it is the second-largest cryptocurrency by market capitalization ($80.9b)
The Binance Coin (BNB) started as an Ethereum-based token (ERC-20) before moving to its custom blockchain, 'Binance Chain.' Launched in 2017, it has grown to a market capitalization greater than the 1906-launched Xerox.
Spotify, General Motors, Baidu, Ferrari, and BMW are what you will typically consider giants in their field of expertise. It is so promising for the crypto community to see our just-recent innovations favourably competing with market giants and surpassing them even.
A glorious time for Bitcoin
Changpeng Zhao's appraisal on the market capitalization for the mentioned companies comes after Bitcoin made a debut by surpassing visa in terms of market capitalization as detailed below;
Visa: $487.79 Billion
Mastercard: $334.97 Billion
Bitcoin: $495.24 Billion
If bitcoin proceeds with its market dominance, it could soon attain a market cap greater than Visa and Mastercard combined.
With current statistics, Bitcoin has a $327,52 billion margin before it matches up to the two.  If Bitcoin maintains its recent upward surge, it will likely achieve this feat by the end of 2021.
BNB and Ethereum certainly have a great future in the crypto environment. The potential achievable by the Binance chain and ETH 2.0 signifies more success for these assets.