Ripple cryptocurrency is designed for both banks and individuals to help in daily transactions. Many banks use the Ripple network for cross-border transactions. Ripple is a top choice cryptocurrency for both daily transactions and investment opportunities. Therefore, many people, from retail traders to individual investors and large corporations are looking to buy Ripple. Some of these people like to speculate on the price of this cryptocurrency and invest in it, while others use the Ripple platform for instantaneous cross-border payments – to help them convert their fiat currencies and transfer funds easily.
How do you go about buying your first Ripple (XRP)?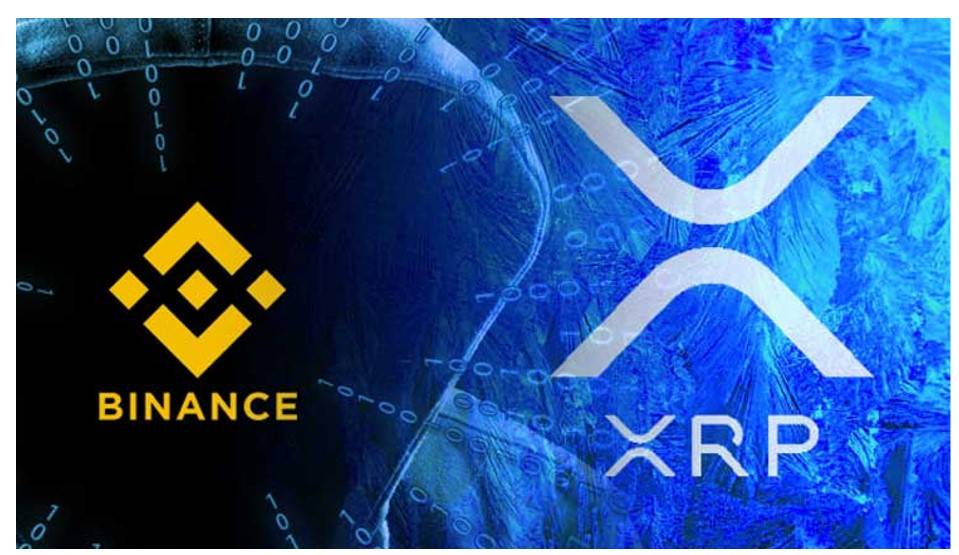 By no doubt, Binance is the leader in the cryptocurrency industry for those looking to buy Ripple and other cryptocurrencies. It has grown to become a powerhouse, offering leading trading tools, affordable fees, and full-time customer support.
Whether you are looking to send some funds to your loved ones in any part of the world or you are buying them to keep as an investment, this article will guide you on how to buy Ripple (XRP) from Binance in simple steps. You will learn how to exchange other major cryptocurrencies for Ripple (XRP) on Binance Exchange.
You need Ripple XRP cryptocurrency pairs such as Bitcoin, Litecoin, and Ethereum before you buy the digital coin on Binance. There are different ways you can buy Bitcoins and other altcoins with fiat. The common method is buying from exchanges, marketplaces, or brokers such as Coinbase. You can also buy Bitcoin or Ethereum from friends and family. Before we begin, keep it in mind that you need to keep your Ripple XRP in a good and secure wallet.
Step 1: Register on Binance Exchange
First, you need to have an account with Binance Exchange before you can do any meaningful activity on the platform. If you are new, you will have to create an account with the Exchange. Go to Binance Exchange official site and click on the Register link. Fill in the required fields and follow the clear and short instructions to complete the process.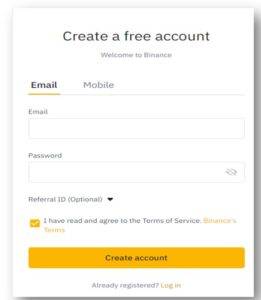 Step 2: Verify your Account
Fill the registration form and verify the account before you begin using the account.
Step 3: Transfer your Bitcoin or altcoin to Binance
After signing in with Binance Exchange, the next step is transferring the cryptocurrencies you have bought to the exchange. Use the 'Funds' links on the website to transfer the funds, by choosing the 'Deposit' option. Then, select the cryptocurrency you want to deposit.  You can deposit Bitcoin, Ethereum, or any other altcoin.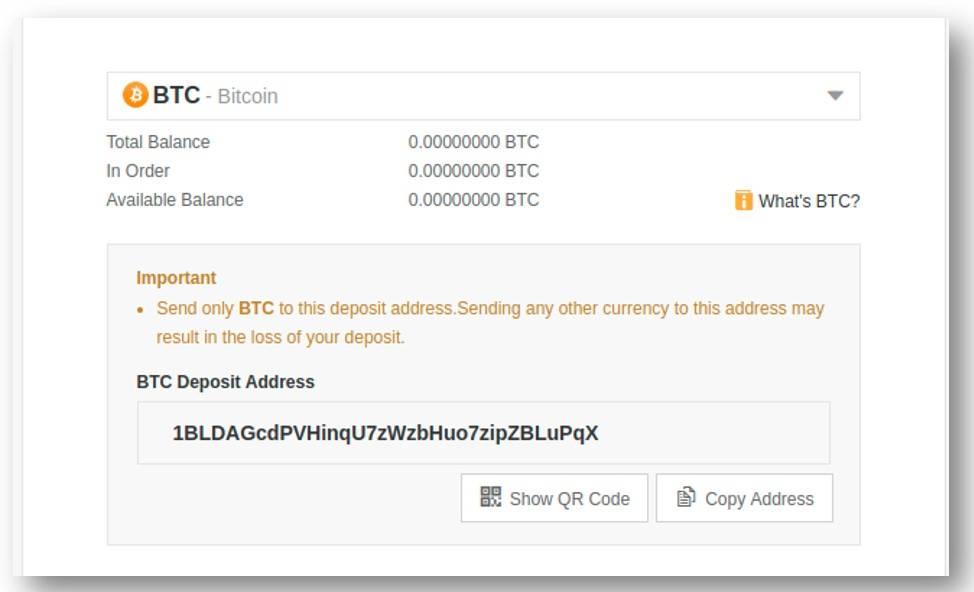 Step 4: Create a wallet address
The next step is having a wallet that you will use to store your Ripple XRP coins. The system generates this wallet for you. Transfer the cryptocurrency you earlier purchased to the wallet address generated by Binance.
Step 5: Understand the Interface of Binance Platform
Locate the cryptocurrency pair you want to trade at the top right section of the page. If you are exchanging BTC (Bitcoin) for XRP (Ripple), you will search for the XRP/BTC pair. If you have funded your account with any other altcoin, just replace BTC with the altcoin and follow the same process.
Step 6: Activate the 'Limit' tab
Be sure you buy Ripple at a lower price buy activating the 'Limit' tab. This section is under the XRP/BTC price chart. If you are a newbie and you try to set a market tab yourself, it will buy Ripple for you at a higher price. If you are an experienced trader, you can use trading strategies such as the use of Ripple signal, Charts, or trends to monitor the price movements and buy when the price is low.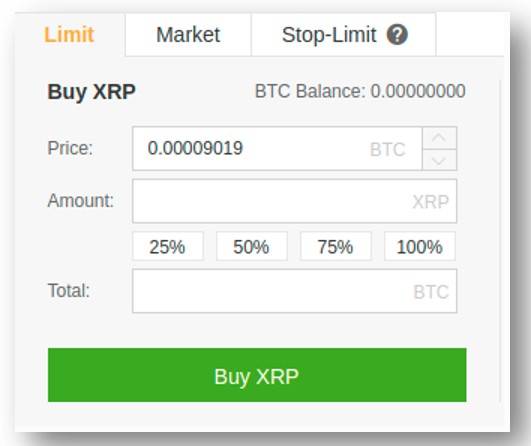 Step 7: Calculate the amount of Ripple you can buy
You can see how much BTC a Ripple cost at the first box labeled 'Price.' You need to input the number of Ripples you would like to buy on the second box labeled 'Amount.' You can use the option below the 'Amount' box to select the percentage of your funded coin you would want to use – it can be 25%, 50%, or 100% (all the funds). The corresponding value of Ripple will reflect on the 'Amount' box.
Step 8 – Buying Ripple
This is the final step. To get your XRP, click the buying button on the official Binance site. The process is the same when using any other cryptocurrency apart from Bitcoin.
Now that you know how to buy Ripple from Binance, the last thing is to ensure you secure your Ripple tokens by keeping them safe on a Ripple wallet. After purchasing XRP, you can send them to another person's wallet for payment or as a gift. Another option is trading Ripple on Binance.