The US Attorney General's Cyber-Digital Task Force recently published a document outlining guidelines for cryptocurrencies, mainly targeting enforcement of crypto laws. Titled the "Cryptocurrency Enforcement Framework," the guidelines define cryptocurrencies and their potential use cases, detailing where usage is deemed legitimate or illegal.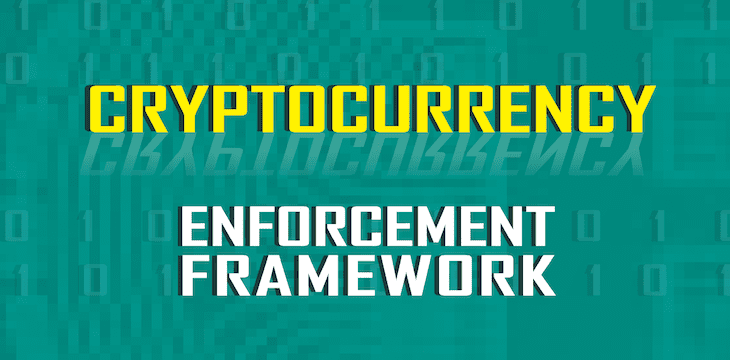 Image: CoinGreek
With the nature of blockchain technology and cryptocurrencies, the US Department of Justice (DOJ) notes that the technology has established loopholes in the enforcement of laws. This emerging challenge is more alarming given the potential of cryptocurrencies to be used in supporting terrorism, completing transactions in the dark web, money laundering, or even extortion activities.
Curbing Illegal Trade
The new guidelines that have been in the making for two years now, come after recent charges against derivatives exchange BitMEX by the United States Commodity Futures Trading Commission (CTFC) for operating without registration and violating regulations set for Anti-Money Laundering (AML).
These guidelines are a step forward towards ensuring activities in the cryptocurrency industry are accountable. In a statement, AG Barr noted the significance of cryptocurrencies in the social spectrum and explained the need to ensure its safety and critically, the security of the nation.
While the lengthy report outlines both legitimate and illegitimate uses of cryptocurrencies, the task-force seemingly emphasizes the illegitimate uses. In the report, privacy assets are flagged as a potential point for criminal behavior. Generally, compared to countries like Japan and Singapore that have advanced laws on cryptocurrencies, the US is just getting started on most fronts. The report also contains a plan for the future regarding enforcing crypto laws.
While detailing the illegitimate applications, the report notes that "In addition to offering a means to commit old crimes in new ways, cryptocurrencies and the platforms on which they operate have often themselves become the target of criminal activity". Some people have become skeptical of cryptocurrencies despite them knowing of the potential these digital assets have in disrupting the traditional financial industry. This skepticism is holding back the uptake of cryptocurrencies by mainstream market players.
Conclusion
Hopefully, these guidelines are a first-of-many not only to outline the basics but also to enhance trust to the masses regarding the use of cryptocurrencies while ensuring the safety of the technology.