Uniswap sets a new record as the first decentralized finance (DeFi) protocol to surpass a $2 billion mark in total value lock (TVL). The top non-custodial exchange is worth $2.03 TVT at the time of writing, as per the report by tracker DeFi Pulse. The most popular Uniswap token in terms of liquidity is Ether (ETH), Tether (USDT), and Wrapped Bitcoin (WBTC).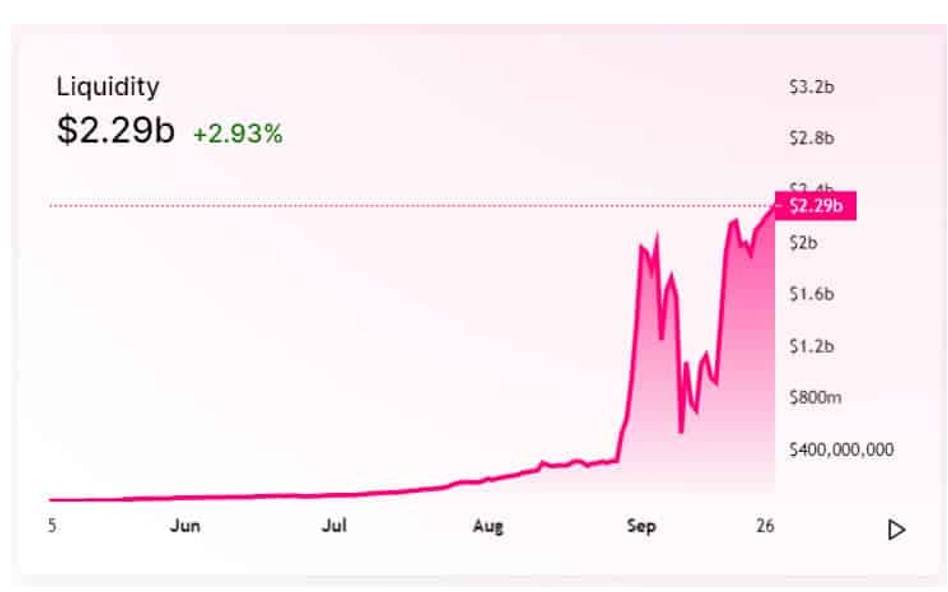 Unswap is enjoying 18% dominance over other DeFi protocols. Following Uniswap closely is MakerDAO's decentralized lending protocol. The total amount of stablecoin DAI deposit in the MakerDAO project is $1.95 billion. Aave comes third with $1.54 billion in TVL. Cumulative TVL for all protocols exceeds $11 billion as the yield farming continues to grow in popularity.
Uniswap takes the lead
Previously, Maker was leading until this month when Uniswap managed to take over the leading position. Uniswap recorded daily volumes that reached as high as $276 million.
Uniswap (UNI) farming would go on until November. Experts have already predicted that Uniswap's liquidity would become less lucrative after the deadline. However, the experts suggested that that liquidity should be transferred to a more lucrative pool to prevent a price crash. If the transfer doesn't happen liquidity provider will only earn a 0.3% trading fee, that is relatively lower as compared to some of its competitors.
In terms of price, Uniswap (UNI) was able to secure earnings and maintained a trading level at $4.56 as per the time of writing. Despite the token escalating to above $5 in the past few weeks. However, the price maintained a horizontal trend without any massive positive or negative price deviation.
On the other hand, the SushiSwap token crashed, leading to an 80% drop in value in a few days. It is trading at $1.34 as per the writing, after attaining a high of about $11 on September 1, 2020.  Uniswap was able to regain all the liquidity that SushiSwap previously took.
TVL, not an ideal metric to look at the DeFi activity
TVL has gained popularity in the DeFi space as an indicator of the DeFi activity. However, according to Block Research, it is not an ideal metric for gauging DeFi activity. The Block's Open Finance Index takes into account specified vertical parameters making Uniswap easier to comprehend among its users.