Following a statement by Square's chief financial officer, Amrita Ahuja, that the company's bitcoin policy has not shifted, CEO Jack Dorsey tweeted on Friday that Bitcoin has a positive effect on all and is changing everything for the better and emphasized that they will never stop working to make Bitcoin the best in all ways.
CFO Ahuja's tweet
Dorsey's comment came after CFO Ahuja tweeted that their bitcoin plan has not changed. They are strongly dedicated to this culture, particularly their efforts to create a more sustainable world through their Bitcoin Clean Energy initiative. As previously mentioned in February, she stressed that Square continues to access its bitcoin investment policy on an ongoing basis.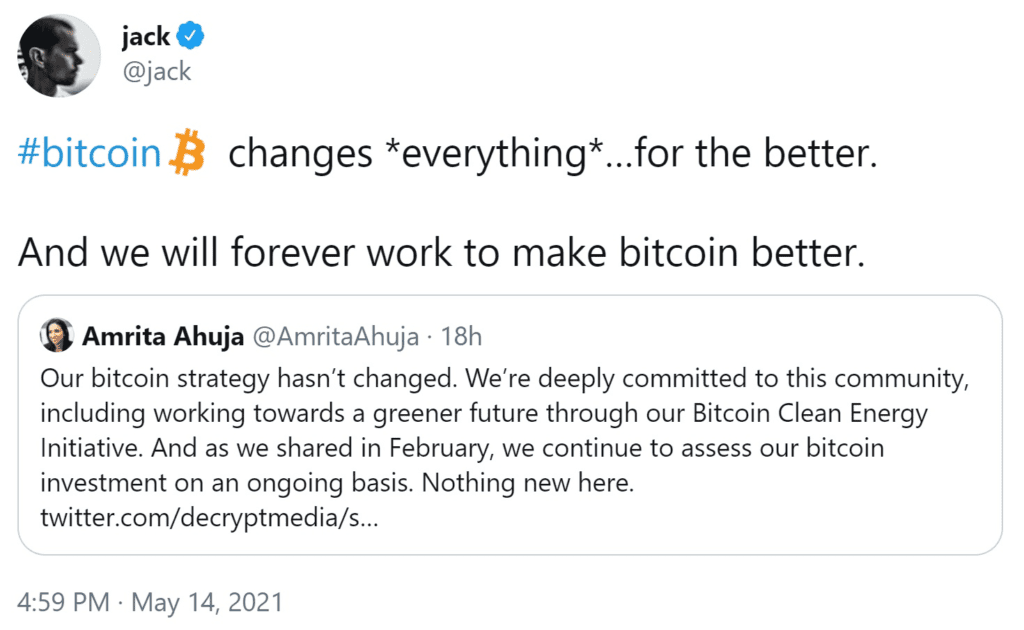 Dorsey then joined a comment thread that began with the tweet stating that Neither Jack, Elon, nor anyone else will alter Bitcoin, but Bitcoin will change Jack, Elon, and everyone else.
Another Twitter user inquired about institutions, asking whether this is the threat they are all concerned about. Dorsey replied by stating that no one individual or organization would be able to alter or stop Bitcoin's gradual adoption progress.
Tesla's announcement
Tesla CEO Elon Musk revealed this week that his electric car firm has stopped taking bitcoin payments. The announcement comes after the continuous use of fossil fuels for Bitcoin transactions and mining, especially coal, which has the highest emissions than any other fuel. According to the company, the price of bitcoin fell after Musk's remark.
According to Square, Square and Ark Invest released a white paper in April to push for bitcoin as a core generator of renewable energy's future.
According to the report, Ark wrote that with the real-world information, Ark Invest shows that bitcoin mining might stimulate investment in solar systems, solar panels and batteries, allowing renewables to produce a higher percentage of grid power with potentially no increase in the cost of electricity.