The former CEO of Ripple, Chris Larsen, is reported to have transacted more than 600 million XRP in a day. XRPL Monitor tracking company further reported that in an hour, 1.8 million XRP was moved in the Upbit platform, with tokens of XRP skyrocketing to 0.71 USD translating to more than a 55% rise. It has resulted in XRP's moved total amount close to two billion.
This is happening as it is boosted by the Bitcoin rally and many other significant favourable conditions, also aiding in the surge of other leading cryptocurrencies. This is explained as stakeholders at XRP are triggered using various sizes of bags; minute to large ones, moving their XRP holdings to top crypto trade platforms.
Big trades are going down.
In the last 24 hours, there were surprisingly vast amounts of XRP tokens moved online in several crypto trading platforms regardless of the size including, Bitfinex, Binance, Huobi, Ripple ODL Corridors Bitstamp, Bitbank, Justin Sun's Poloniex, Bithumb, Ripple, and Coinbase Pro. Chris Larsen's involvement can be detected in these happenings.
The transactions involved in these mass moves summed to 600 million XRPs of which Ripple and Larsen alone, traded 95 million of the XRP.
When a press conference was conducted, XRP had dropped to 0.67 USD according to CoinMarketCap.
Upbit, an exchange based in South Korea, is outstanding as it has transacted consecutively ten times. With each transaction involving 120 million XRP tokens valued at 81,885,267 USD.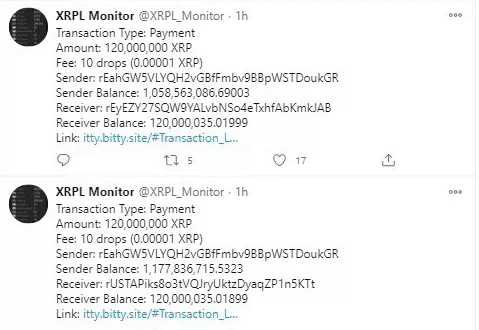 The leading RippleNet member just grabbed by Bank of America.
U.Today had earlier reported that an American banking giant and most influential organization, Bank of America, was put as a leading RippleNet client on the Ripple platform. The bank had been previously reported to have been trying out products from Ripple, and therefore, partnering with them in 2016.
Ripple revealed their achievement of bagging BoA as one of their clients at a conference earlier this year at the Ripple-hosted yearly Swell conference. DLT's platform now boasts of having a significant and massive player in the list of their client.