Following a recent report from cryptonews.net, it had come to the limelight that XRPL monitors on twitter showed a wired transfer by Ripple of an amount going up to 44.1 mln of XRP. These were directed to their other crypto addresses in an attempt to maintain liquidity within them. Besides, more sources state that huge transfers have become a common experience within the platform.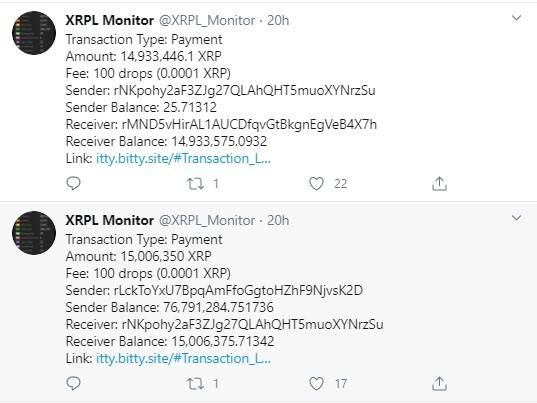 Report further stated that a portion of the XRP of up to 14 mln had been wired to its Binance address. The wired transfer was confirmed to be in the form of fiat. This has been considered to be a less common instance being that it involved a huge amount of transfer within a single transaction. However, more reports state that Ripples have made more of such incidences in the recent past.
The transfer has recently been a common experience with the decacorn fintech group, Ripple's wiring huge amount of cash to Binance. On the other hand, Binance has been reluctant on returning XRP to Ripples for they are reported to have a considerably stable liquid.
From a recent observation, Celsius networks had sent up to 9 mln XRP, which had been actively tracked by the XRP Twitter bot, to Bitfinex for the same aim of increasing liquidity within the platform. The amount is observed to had been intended to reach the Philippines based crypto platform, PDAX.
The wired XRP was targeted to its conversion to fiat since the Philippines had been observed to possess one major Ripples ODL corridors which is well known to be trading XRP for fiat.
Within the Philippines platform for Ripple's XRP, reaching the liquidity index has been a tough huddle and reaching a high level throughout this year has been quite unachievable. At the moment, the liquidity index within the Ripple's platform has reached a peak of 1,250,513 as compared to the 11,508,218 which has been the all-time high peak recorded.