Changpeng Zhao, the CEO Binance, tweeted hinting that Queen Elizabeth II might be in ownership of Bitcoin after she had displayed an interest in cryptocurrency, as reported by The Financial Times. The Queen was seen to be interested in crypto study paper presented to Buckingham Palace.
Binance CZ tweeted, claiming that Queen Elizabeth may possess Bitcoin has started a speculative rush in the crypto market.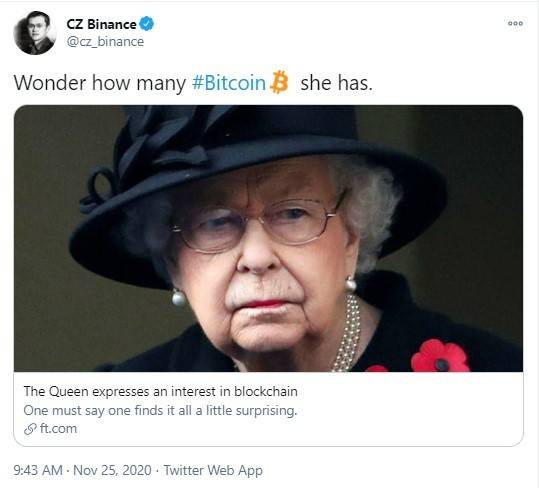 The Queen's office revealed that the sixth edition of blockchain journal had been received at Buckingham Palace from the British Blockchain Association (BBA) the day before, The Financial Times further reported. BBA is a non-profit organization that does writing on cryptocurrency working with the IBM, Microsoft, U.N., universities, among others.
In turn, the Queen's office responded with an appreciatory note to BBA for the receipt. In the reply, there was hinting of the Queen's interest in being acquainted with the paper. It also explained how DLT journal is of double versions: online and hard copy version, the first of its kind.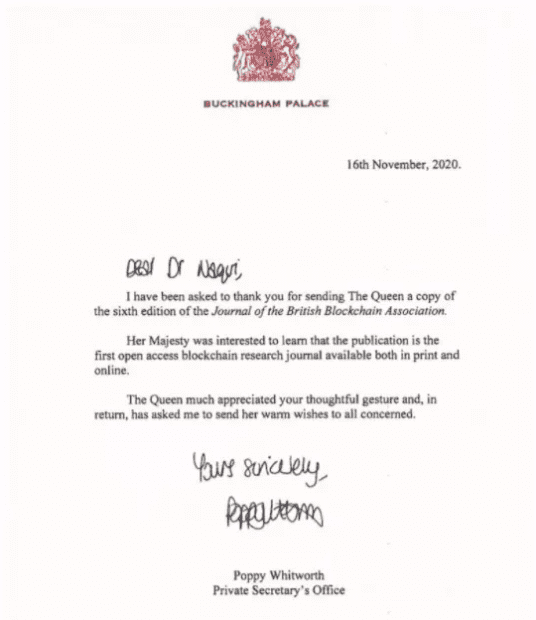 The CEO Binance shared the article through Twitter and made fun of the thought that the Queen has bagged a large bitcoin share.
The Crypto community sided with Binance CZ giving suggestions of how Queen Elizabeth II has kept cryptos.
Sean Ono Lennon, son to Yoko Ono and John Lennon, praised Bitcoin via Max Keiser's podcast, U.Today reported. He was quoted saying that this year, he was optimistic about the future thanks to Bitcoin and mentioned how it is empowering people on its levels.
Polls carried out across the U.K. showed that only millennials take to cryptocurrency as a store of value. The elders, however, prefer traditional means, e.g., stocks and real estate. On the other hand, some billionaires such as Paul Tudor Jones, Robert Kiyosaki, etc., are interested in Bitcoin, counting on its property as a wealth store.
Warren Buffett, however, is firm on his view on Bitcoin. The A-lister wealthiest people on earth resists it, terming it as "rat poison squared." Several meeting with crypto influencers, including Tron CEO Justin Sun has never convinced Buffett.