Wisconsin State Assembly Candidate, Phil Anderson, has stated that he is receiving cryptocurrency donations towards his campaign. According to the official statement by this candidate, the donation will be available through BitPay – a major cryptocurrency payments service provider.
Andersons's decision comes as a challenge to a state's campaign regulatory body that is still uncertain over the matter. Wisconsin Ethics Commission has failed to approve the use of cryptocurrency for political donation activities. Anderson is one of the popular figures who have been pushing the Commission to allow crypto donations for political campaigns. Apart from the political profession, Anderson is also a re-known entrepreneur and real estate investor.
This is the second time Anderson is publicly confirming his stand on the use of cryptocurrency for donations towards the election. In 2018, Anderson welcome Bitcoin donations towards his campaign for Wisconsin State's gubernatorial seat. During that time, Wisconsin Ethical Commission found this suggestion a "serious challenge" to compliance with state regulations. The Ethical Commission could not arrive at a decision concerning the legal status of digital currency donation in the state in 2018.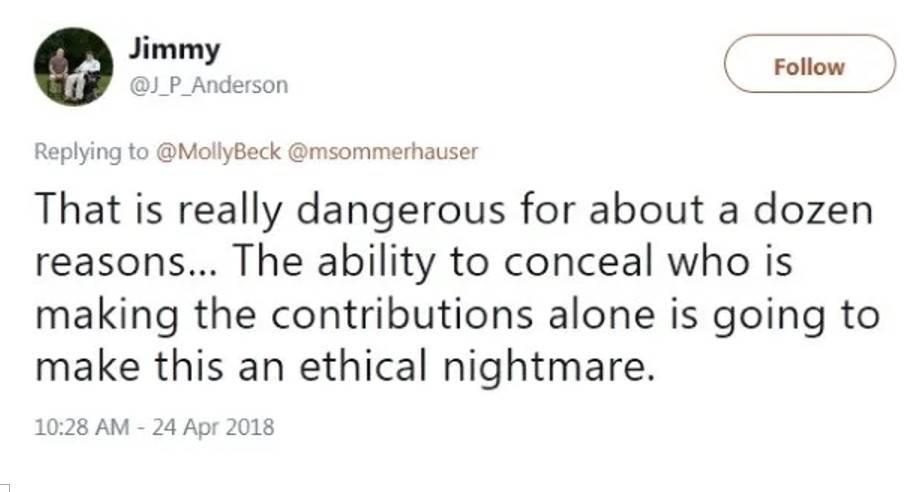 Likely Obstacles
Anderson may face challenges from WEC for using the BitPay donation platform. Sending funds through BitPay will require Know-your-customer (KYC) verification, which is a requirement to comply with the State Regulations.
Cryptocurrency is also volatile. Therefore, the funds donated in form of cryptocurrency will be converted to U.S dollars and deposited in a bank monitored by Wisconsin Ethics Commission.
Bitcoin Campaign Funding, still a Debate in the US
Anderson has joined other political figures who have accepted Bitcoin and other altcoins as a method of donation towards their campaigns. Andrew Young, a former U.S. Presidential candidate also announced that he would accept donations through bitcoin. Young is a strong bitcoin supporter.
Unlike Wisconsin, some other States in the country have taken a decisive stand on this matter. In 2018, the North Carolina State Board of Election (NCSBE) prohibited election candidates within the states from accepting any donation given in the form of cryptocurrency.  California also prohibited cryptocurrency donations towards political campaigns. However, cryptocurrency continues to gain popularity in the political environment.