In recent times, there have been widespread interests in cryptocurrencies from people trying to diversify their investment options. However, crypto enthusiasts, especially beginners, have often contemplated which platform to buy and sell tokens from the endless list of available crypto exchanges. For most crypto enthusiasts, Binance and OKEx are the two most reliable platforms to trade cryptocurrencies. As a result, we'll analyze two of the most famous cryptocurrency exchanges presently: Binance and OKEx. Now, let us see which option is the best.
Overview
Binance
Concerning weekly visitation and daily trading volume, Binance is presently the largest cryptocurrency exchange in the world. It was established in 2017 and has its headquarters in the Caymans. Changpeng Zhao, a renowned trading software engineer, created the company. He built this service for interested crypto traders across the globe who would like access to a variety of cryptocurrencies and profit-maximizing features.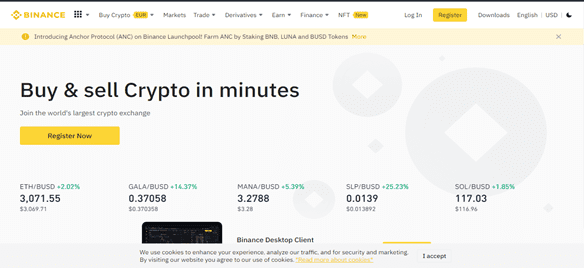 OKEx
OKEx, a cryptocurrency exchange system based in Malta, was founded in 2017. Its  Chief Executive Officer and Founder is Jay Hao. OKEx is a crypto exchange which  offers a technically solid trading system, rendering it among the best in the industry.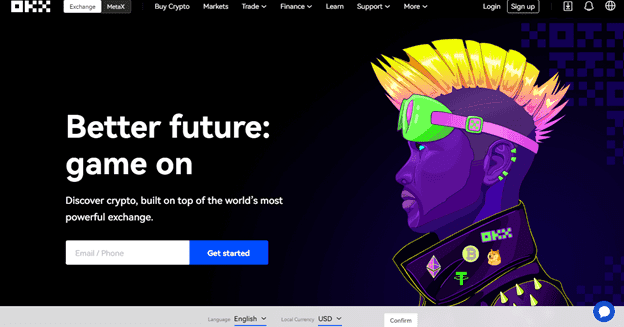 Features of Binance vs. OKEx
Features of Binance
Binance provides consumers with a unique option that allows them to use their cryptocurrencies as collateral for trading contracts and other assets. Here's where you can learn more about it.
Binance users can monitor and track the positions of the top traders on the exchange, thanks to a combination of cryptocurrency trading and social networking.
This capability lets for the enjoyment of crypto exchanges by pitting traders against each other in a competition to see who can make lots of money over a set time.
Features of OKEx
Wallet with inbuilt storage
The OKEx platform includes a built-in storage format for wallets that allows customers to collect their digital assets.
Crypto-to-Crypto exchange
Crypto-to-Crypto exchange is a type of cryptocurrency trading that involves exchanging one cryptocurrency for another.
It's also the practice of using a C.F.D. account to speculate on bitcoin price changes.
Trading of cryptocurrencies for fiat currency
The OKEx crypto exchange provides the ability to exchange from cash to cryptocurrency, which entails purchasing crypto with the national currency of users e.g. Purchasing BTC with dollars or Pounds.
Facilitates numerous payment options
OKEx offers a range of payment methods to its customers. Some of the payment include Transfer, Skrill, AliPay, Bank transfers, Apple Pay, Paypal, and Credit cards.
Trading Fees on Binance versus OKEx
Crypto traders usually consider trading fees when choosing the exchange. Low trading costs might be especially important when dealing with higher positions and executing several transactions.
Trading Fees on Binance
Trading and withdrawals, are all subject to Binance charges. You have the option of withdrawing money in dollars or maybe one of the other crypto assets on the platform. The charges and withdrawal limit  vary depending on the withdrawal method and the cryptocurrency you're withdrawing.
Using BNB, the native token of the exchange when paying for trading fees allows a 25 percent discount on the charges. The transaction charge percentage is determined by the user's thirty-day trading activity and BNB assets.
Transaction Charges on OKEx
For low-volume transactions, the maximum trading charges are 0.15 percent maker charge and 0.2 percent taker charge. For takers and takers payments, however, this reduces to 0.05 percent and 0.02 percent, respectively. Furthermore, OKEx has the lowest withdrawal costs of all of the major exchanges. BTC transaction charges on OKEx, for instance, are 0.0004 Bitcoin at the moment of typing.
Security on Binance vs. OKEx
Once it comes to trading, security is among the most crucial elements. To protect user information and payments, security is vital. As a result, traders must examine whether the marketplace is safe or not before they trust their funds in it.
Binance Data Protection
Although Binance does not adequately inform consumers about how their assets are protected, but we'd like to trust that security is a top priority. There's a two-factor authentication system on the platform to help users secure their assets and transactions.
OKEx data protection
With several security precautions in place, OKEx is by far the safest trading platform. Furthermore, cutting-edge technology like the core private cryptographic protocols algorithm and cold wallet is used in the framework of this exchange. It is a complex framework with the leading private protection as a consequence of these methods.
Additionally, OKEx is governed by the Malta Financial Services Authority and follows the VFAA (Virtual Financial Asset Act).
Binance vs OKEx: Pros and Cons
Binance
Pros
Low transaction fees
Up to 10% APY holdings
Purchase cryptocurrency with debit cards
Fiat-to-crypto or crypto-to-crypto exchange
Cons
Not so friendly for beginners
Limited cryptocurrency choice for U.S residents.
OKEx
Pros
Over four hundred distinct trading pairs
Impassable multi-layered protection system
Expertly built mobile applications for Android and Apple customers            
Zero deposit charges    
Financing and nominal trading charges contrasted to other market options            
Low transaction fees
Cons
Could be somewhat hard for novices
Geographical constraints to prominent nations.
Withdrawal transfer restrictions
Conclusion
Following a thorough examination of both exchanges, we discovered numerous similarities in both services, and it is ultimately up to the customers to pick. Binance, on the other hand, charges a lower cost than OKEx.
Binance is a popular exchange among intermediate to experienced traders, while OKEx is a good starting point if you're new to cryptocurrency trading. When it comes to assistance and customer relations, OKEx is preferable, thanks to its unlimited access.
Furthermore, Binance makes more improvements towards. making the exchange more user-friendly.
To summarize, each of these marketplaces provides their users with a variety of additional features that distinguish them from one another. You can learn more about the features from the experts at MyCryptoParadise (  Use our discount PRO5% to get an exclusive 5% discount on your premium membership today and click this link to be added to the telegram channel.)