The US Security and Exchange Commission (SEC) has recently received a newly appointed chair, Elad Roisman. News on this announcement was first broken by a tweet shared by the commissioner Hester Peirce.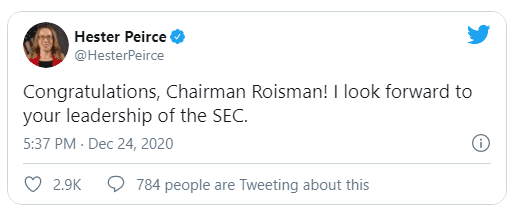 News on Roisman's appointment comes a day after Jay Clayton announced he is stepping down on Wednesday the 23rd.
"I recently submitted a letter to President Donald J. Trump informing him that today, December 23, 2020, will be my last day as Chairman of the Securities and Exchange Commission."
Roisman has worked in the agency as a commissioner since September 2018. He was nominated into the office by former US President Donald Trump. Before his appointment, Roisman served as the chief counsel for the US Senate Committee on Housing, Banking, and Urban Affairs.
He is considered among the most crypto-friendly SEC commissioners because of his favorable outlook on digital asset regulation. Roisman's position as SEC chair may likely be temporary since president-elect Joe Biden is expected to soon appoint Clayton's permanent replacement.
Inasmuch as Roisman's appointment may not final, it comes as a relief to the crypto community. Having a pro-player in high leadership will help formulate more clear regulatory standards on the market.
An Uncertain Time for New Leadership
The appointment of the new SEC Chairman comes after Jay Clayton filled a lawsuit on blockchain company-Ripple alongside its CEO and Chairman over their failure to register as a security.
Speculations specifically by Ripple's CEO have it that Clayton pushed the lawsuit as a move by Trump's administration to jam up Biden's new reign. In truth to this, the SEC has taken a lot of legal steps against numerous ICO projects under Clayton's guard. Bitcoin ETF funds have also been continuously rejected on claims of fraud or market manipulation.
All eyes are now on the new SEC chairman as we await to see his next action concerning the lawsuit.