With the right strategy, seasoned crypto traders can enjoy some not-so-obvious features, such as paying low trading fees on trading platforms. One of the crypto exchanges where you can enjoy this feature is KuCoin.
In this article, we're going to take a closer look at Kucoin, the trading fees, and also the withdrawal fees.
We're also going to show you how you can reduce your trading fees instead of the normal trading fees that other Kucoin users are charged when carrying out transactions on the exchange.
So, let's get right in.
What are the Current KuCoin Trading Fees?
First of all, let's check out the current trading fees of KuCoin. Log into your KuCoin account, hover over the account icon on the top right and then click on Trading Fees. This will take you right to their fee schedule. The base fee that you're going to have to pay for a level zero account is 0.1 percent
For a market maker and market taker, the difference between a market maker and a market taker is that market makers are people who are placing a limit order. For example, they may want to sell one bitcoin at $58,000. On the other hand, a market taker is somebody who's just taking that offer.
They are taking liquidity and a market maker is providing liquidity because they are putting orders in the order book.
Market Maker and Market Taker Fees: What's the Difference?
The difference mostly is that as a market taker, you're going to have to pay more in fees because you are taking liquidity as opposed to providing liquidity as a market maker. But as a level zero account, it doesn't matter.
You're going to have the same fees for a market maker or market taker. You can put in a market order and the fees are going to be the same as a limit order. They have some kind of level structure so that the more you trade, the less you're going to have to pay in fees.
If for example, your account is currently at level 0 because you trade less than 50 Bitcoins per month, it is probably going to stay that way. If you trade a lot of cryptocurrencies, then you might get to a higher level. If, for example. You trade more than 50 bitcoin per month, you're going to get to level one. The level one fee schedule will get you a 0.01 fee as a market maker for putting in limit orders. The more you trade in volume, the less the fee will be. They have a similar fee structure for futures trading.
In futures trading, the fees are a bit lower. For level zero, the fee is going to be 0.02 for the market maker and 0.06 for a market taker. The more you trade, the fewer fees you're going to have to pay.
Deposit And Withdrawal Fee Rate
For crypto deposits, you'll not be charged any fees for that. All the fees that you're going to have to pay for the deposit are the withdrawal fee from the other exchange and the network fee for confirming that transaction. The withdrawal fee varies for each cryptocurrency.
For example, you're going to have to pay a 0.005 fee in Bitcoin for withdrawing bitcoin from KuCoin. For Litecoin, the fee is 0.001 LTC . And obviously, they have minimum withdrawal amounts. There is a way how you can reduce your trading fees by 20 percent. For level 0, you can reduce your trading fees from 0.1 percent to 0.08 percent.
All you have to do to decrease your trading fees is to pay your trading fees using the platform token of KuCoin, which is the KCS. All you have to do is to buy KCS and then turn on the feature of paying your trading fees with KCS. To quickly demonstrate to you how you can buy some KCS and also how you can turn on this feature, the first thing you have to do is go to the Assets page in your KuCoin account here because you have to trade the cryptocurrency from your main account to your trading account.
You can use the crypto option to trade. If for example, you have some Litecoin in your account, you just have to click on the transfer option in your account.
Transfer from your main account to your trading account. Go to the trade option and click on spot trading. This will open up the trading interface. If you haven't logged in yet, then you'll have to type in your trading password before you can start trading. Look for the currency pair of Litecoin/KCS.
So, type in LTC and you'll see LTC/KCS. Choose this and sell some Litecoin for the market price. Next, do a market order. On the bottom, click on "market" and then sell, let's say, 25 Litecoin. Click on sell LTC and then you should have some KuCoin tokens in your account. You'll notice that the order will be filled.
Activate the feature of being able to pay your trading fees using the KCS token. But it's kind of hidden. So when you go to the bottom right, you'll see the feature. Check the box right, and then your trading fees will be paid using the KCS token. When you go back to your account icon, you can see that your fee is now 0.08 percent instead of 0.1 percent, and just like that, you have just reduced your trading fees.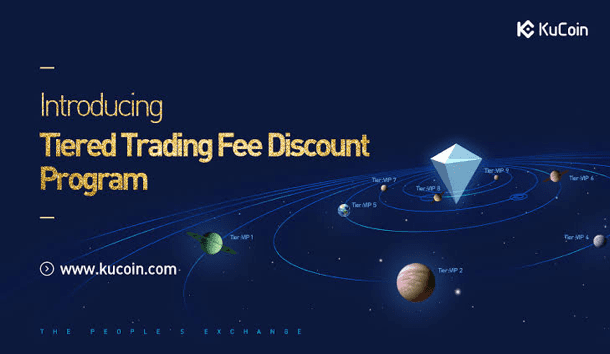 Conclusion
By exchanging more or keeping at least one thousand of these leverage tokens, you can lower your KuCoin charges. The taker/maker charge begins at 0.1 percent and decreases as you progress through the levels. If you buy or sell with the KuCoin token, the fees will be much lower.
Even the maximum charge, 0.1 percent, is less than what you'd pay on several trading platforms. You must, however, consider the withdrawal and deposit fees.