Coinbase, a major crypto exchange, has announced its holdup from XRP trading following the lawsuit filed by US Security Exchanges Commission (SEC) upon Ripple.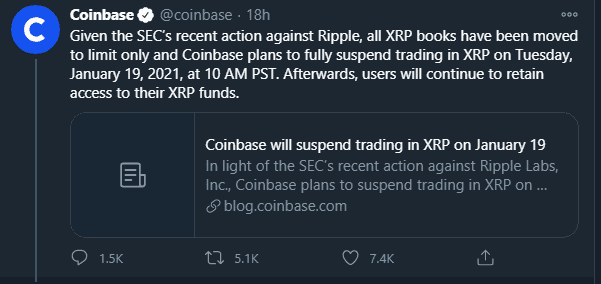 According to a blog post published by Coinbase's Chief Legal Officer, Paul Grewal, the exchange plans on suspending all XRP trading pairs from their platform. In the meanwhile, trading will take place with limited features.
The XRP trading suspension, as reported, will not affect customer's access to their wallets. Deposits and Withdrawal services will remain available even after Coinbase suspends XRP next month.
What now for Spark Airdrop?
Spark is a native Flare Network token designed to offer smart contract functionalities to XRP but on a separate blockchain.
XRP holders would be entitled to a new token-SPARK on a 1:1 ratio basis only by the merit of holding XRP tokens.
Repercussions after Coinbase suspends XRP will not be evident to customers eligible for the Spark airdrop.
Coinbase custody and Coinbase wallet will remain to be supported.
The Moral Standing for Coinbase
Coinbase has promised to remain the most trusted exchange in the business. To do so, it has to provide its customers with assets that are evaluated against their Digital Asset Framework.
The framework assesses factors like security, compliance, and the degree the asset aligns to their mission of creating an open financial system in the world.
XRP trading suspension, simply put, is a necessary move to maintain Coinbase's market health metrics.
Corporations might continue Suspending XRP
News that Coinbase is planning to suspend XRP did not make debut in the industry. Major corporations had spearheaded a similar action. OSL, a trading platform located in Hong Kong, announced its withdrawal from XRP trading on 23rd December.
Bitwise Asset Management, Beaxy Exchange, and Cross Tower are among corporations that followed suit in suspending  XRP trading from last week. More withdrawals are expected from correspondent companies until SEC clears Ripple.
The crypto asset fell by as much as 31% yesterday after Coinbase's announcement.