Binance, the largest crypto trading platform, has temporarily suspended LUNA and UST token withdrawals due high volume of pending withdrawal transactions caused by network slowness and congestion.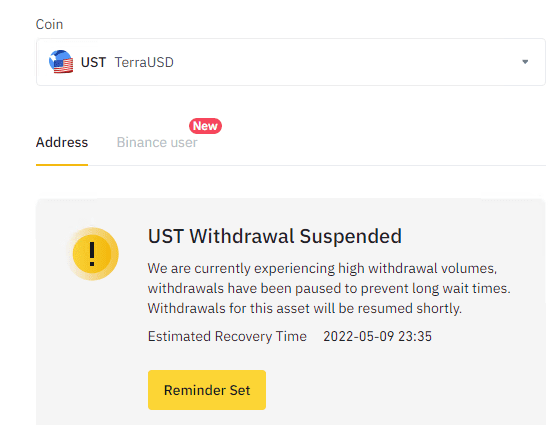 The company has announced that the withdrawals will be reopened once the network pace is stable and the high volume of pending withdrawals has gone down.
It has also apologized for the inconvenience and warned clients that cryptocurrency is subject to high market risk, saying Binance will not be responsible for the clients' trading losses if they don't trade carefully.
LUNA and UST freeze
On Tuesday morning, Asia time, traders reported that the order book for LUNA and UST appeared frozen, with no orders going through. According to Twitter reports, traders could not sell UST for anything below 70 cents.
Terra's official account tweeted asking traders who use the public infra not to span it because they are experiencing high volumes of transactions now. It also asked them to be mindful of their public infra usage.
The Luna Foundation Guard (LFG) currently has $171.4 million in USD in its reserves, down 85% from the previous day, $86.82 million in UST, and down 41% from a day prior, $84.5 million in AVAX. It has depleted its bitcoin reserves and liquidated them to support the peg.
Jose Maria Macedo, a member of LFG's council, told CoinDesk that they have ample reserves to support the peg. Kraken and Coin list have suspended withdrawals now, but FTX is currently still processing withdrawals of UST.