A decade ago, the financial world witnessed a threatening revolution from the introduction of Bitcoin and the plethora of other cryptocurrencies that were inspired from it. Cryptocurrencies were introduced with the intent of decentralizing the financial trading system. More importantly, Cryptocurrencies were introduced to bank the unbanked.
The world has 2 billion unbanked people solely because they are deemed unfit by centralized institutions for having something as simple as a bank account. Given that billions of people around the world can't access something as simple as a bank account or a loan, cryptocurrencies' core concept of decentralization allowed the unbanked to be banked.
Decentralization allowed users to cut out any middle men, in this case centralized institutions. It allowed users to transact with anyone in the world without any middle men. While Cryptocurrencies introduced a decentralized currency to the world, Decentralized Finance, or DeFi introduced a whole new perception of finance.
DeFi took the idea of decentralization and created an entire ecosystem of smart-contract powered apps that made it possible for anyone with a smartphone and an internet connection to lend ,save, trade, earn, and run their businesses without any hassles from middlemen such as banks or payment processors.
However, like Cryptocurrencies, DeFi are still very nascent. And because they're still an emerging technology, it comes with a myriad of risks and room for improvements. At the moment, DeFi solutions can be a little complex to understand because they don't have a user-friendly UI/UX for their protocols. Since the space is still under development, we've seen too many people fall victim to misunderstanding of certain protocols, tools, and apps within the space. This is because navigating and using DeFi could require in-depth knowledge and a strong level of technical knowledge and experience. Moreover, it's not very friendly to people who just entered the space. There's a high chance your asset or investment could fall victim to buggy code, malicious actors, or as simple as user error.
However, DeFi is influencing every industry there is. You can't suppress the surging growth of DeFi at this moment in time. DeFi is everywhere. They're emerging in the gaming industry, the entertainment industry, businesses are embracing the technology and concept with open arms, and more, which is why CeFi was introduced.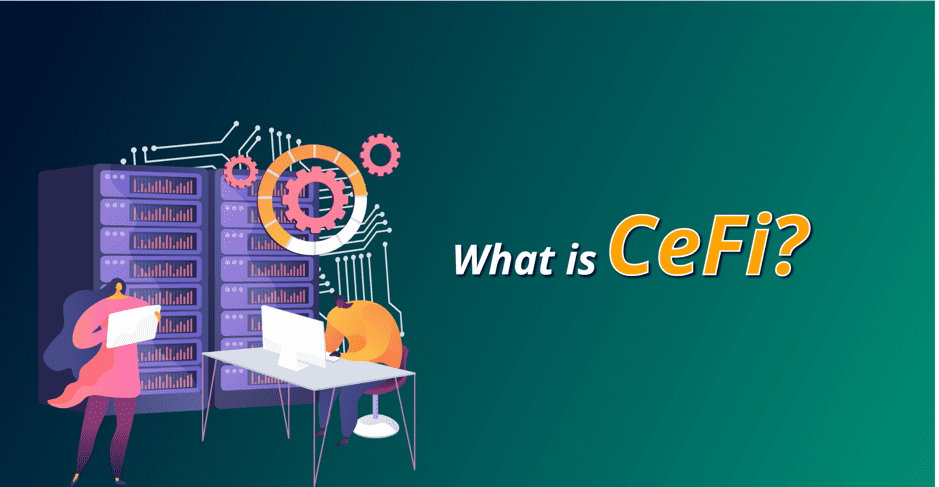 What is CeFi?
In light of Decentralized Finance, Centralized finance, or CeFi for short, is DeFi's centralized counterpart. CeFi was introduced to promote cryptocurrency investment opportunities that operates similar to DeFi and offers some of the same benefits as DeFi; however, under a more user-friendly, noob-friendly environment. CeFi offers a set of robust and secure financial-services products. With CeFi, you can lend, borrow, buy and sell crypto, and on top of it all, earn rewards with a nifty crypto debit card.
CeFi intends to make trading more equitable, improve transaction processing, and speed up buying and selling. Although CeFi stands for Centralized Finance, it emphasizes a more decentralized form of traditional financial services.
Interestingly, comparing metrics and stats of both CeFi and DeFi, CeFi platforms outclasses the DeFi ecosystem by a huge margin. This is because compared to DeFi platforms, CeFi platforms are far more well-refined and user-friendly mainly because it took several years to polish centralized cryptocurrencies exchanges and loan platforms. Centralized cryptocurrencies exchanges have developed user-friendly interfaces that deliver amazing services under a secure platform that DeFi platforms are still struggling to match.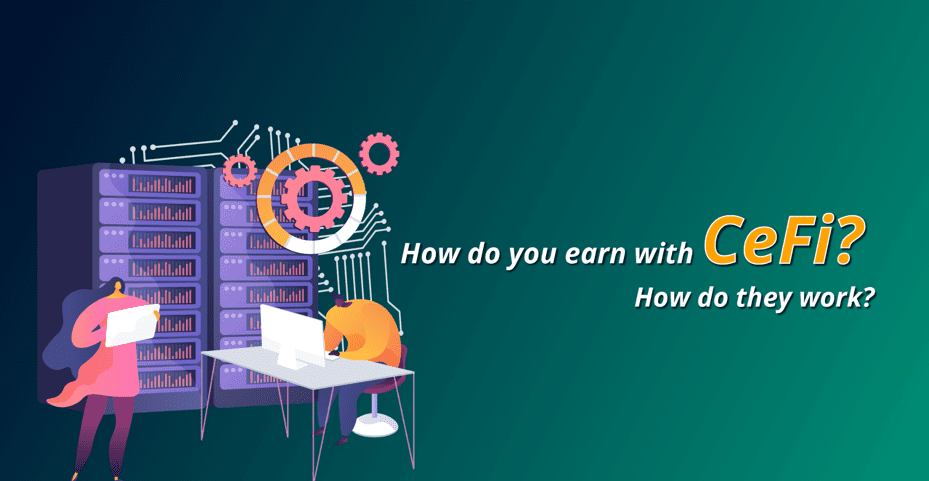 How do you earn with CeFi? How do they work?
So, CeFi creates opportunities for earning yield via crypto-based accounts that are functionally analogous to saving accounts in traditional banks; however, they return much higher yields. However, unlike saving accounts, crypto deposits aren't liable for government-based FDIC or SPIC insurance; therefore it's of utmost importance that you understand the risks involved with this space.
The general concept of earning yield with CeFi is essentially holding some of your crypto on one of the many diverse platforms that offer such a product. It is very similar to liquidity providing or staking in DeFi.
So, what happens with your assets when you hold them?
Well, when you hold some of your crypto on diverse platforms, some of all of your holdings are put to work and lent out to other users on the platform. These users, in this case borrowers, pay the centralized provider an interest rate for borrowing, from which a percentage of the interest is passed on to you. This method is very analogous to liquidity pools in DeFi.
On the other hand, CeFi also makes borrowing money against your crypto holdings very easy too. You can easily borrow money against your crypto holdings in the same way you'd use traditional currencies or assets as collateral to apply for a bank loan. What's important is that unlike bank loans, which can be very discriminating in itself, CeFi loans barely need any paperwork. Some centralized exchanges offer users to borrow up to $100,000 without a credit check.
What are the risks involved in CeFi?
It's important to know that everything involves risks and you must perform your due diligence and make yourself aware of all the risks involved before investing in the space. CeFi is not perfect and can have some risks associated with it such as
Risks may vary depending on the product and provider because each CeFi product is unique and may use your holdings in various ways, so it's important to do your own research.
Crypto deposits are not eligible for any government-backed insurance that protects savings held by banks.
CeFi providers could lock up for your principal for some time.
Conclusion
DeFi has undoubtedly changed how we perceive and access financial products and so has CeFi. Both types of finances play special roles in the growth of the cryptocurrency industry as they offer unique products, features, and opportunities for their users. With faster transactions, high yields, and an infrastructure that provides advanced and robust finance, whether you choose CeFi or DeFi, it doesn't really matter, you'll be benefiting from them either way. What do you think?
About MyCryptoParadise:
MyCryptoParadise has over 6 years of experience in providing cryptocurrency trading signals which could easily be lauded as some of the best signals in the market today. Our platform holds this status because we continue to offer some of the most intuitive technical analysis, educational content, current updates, and news reports in the industry that greatly benefit our customers by allowing them to take the edge over their competition.
We have established a brand through hard work and repeated success from our market insights. Our customers have had their fair share of profitable trades and gains in the market thanks to our advice and analysis. We're also happy to share that we consistently produce top-class educational content on platforms such as TradingView, Youtube, Telegram, Facebook and Instagram where we provide in-depth and valuable content that enables customers and upcoming traders to elevate their trading game to the next level.
Unlike other crypto channels on Telegram- We are a professional trading company; we offer both free and premium signal groups where members enjoy the benefits of expert trading advice and signals. With our ParadiseVIP Membership, you can gain access to a personal crypto expert to help you with the basics, teach you how to execute our trades, and give you insights about the risk and fund management techniques that we use.
Moreover, we also offer an introductory call with one of our experts once you join us before you start trading. Don't believe us? check what our happy customers have to say. Join us and become part of a thriving community of members who are taking their trading game to the next level.