It is fair to say that virtually every sector will be elevated by Blockchain. The technology is aimed at introducing innovative and enhanced payment systems for people around the world through a number of its emerging applications. The technology of Blockchain seeks to create a safe, open, transparent, decentralised, fast, and exchange-related payment system for cryptocurrencies.
The cryptocurrency market is, however, still in its infancy. While the market has long crossed a market cap worth $2 trillion, it is still a decade old compared to the antique gold market, which is worth well over $10 trillion.
Cryptocurrency markets are characterised by high volatility and unsteady behaviour. Prices of the assets often go through aggressive swings, and it's very hard to predict where the price will eventually land. Case in point: Bitcoin recently hit a record high $65,000 price per bitcoin; however, a week later, it dropped to $55,000.
In spite of the stated purpose of cryptocurrencies to be more stable, their values are highly volatile and driven by speculation. Interestingly, people have gained and lost millions overnight. Be as it may, it is exciting to gain millions, if not thousands of dollars, thanks to these swings; however, the fun stops when you lose hundreds of thousands of dollars.
This shows how the crypto industry can be volatile and dangerous, particularly as a tool for the exchange of products or services. Interestingly, this is where stablecoins come into action.
Unlike cryptocurrencies, stablecoins have a fixed value. Stablecoin values are tied to different resources, such as gold or USD currencies, such as the dollar. Consequently, stablecoins experience many of the same benefits that cryptocurrencies do, such as transparency, security, privacy, and accessibility; however, without the high volatility that is inherent in cryptocurrencies.
Today, with the increasing demand for stablecoins, the stablecoins market is worth $66.9 Billion at the time of writing. Stablecoins were designed to be used in the same way that cryptocurrencies were aimed: as a simple, stable, scalable, and secure means of transaction.
In this post, we'll look at the advantages, features, and background of stablecoins.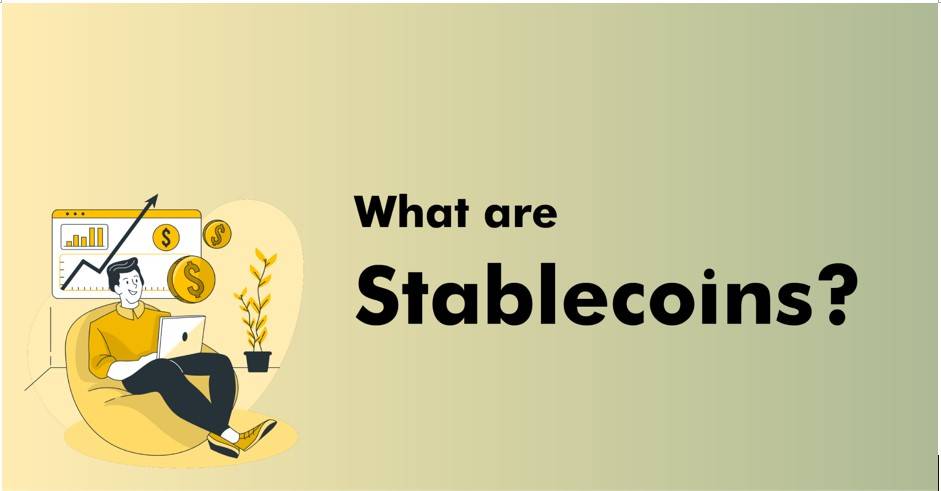 What are Stablecoins?
There are 180 currencies recognized by the United Nations around the world. These currencies include the European Euro, the Japanese Yen, the United States Dollar, and more. These currencies are used as a store of value and exchanged for goods and services across global economies.
Facing inflation, fluctuating exchange rates, as well as other factors, the price of these assets fluctuates only slightly on a regular basis. This allows various economies to trust their currencies to operate.
Case in point: You can buy a soda from anywhere in your country and pay $1 for it today, knowing that it's improbable that it would drastically drop to 50 cents tomorrow.
Stablecoins, on the other hand, are a form of digital money that aims to mirror conventional, stable fiat currencies. A cryptocurrency that is backed and safeguarded by the value of an underlying commodity is stablecoin. Simply put, a stable coin generally digitally represents the value of a stable asset.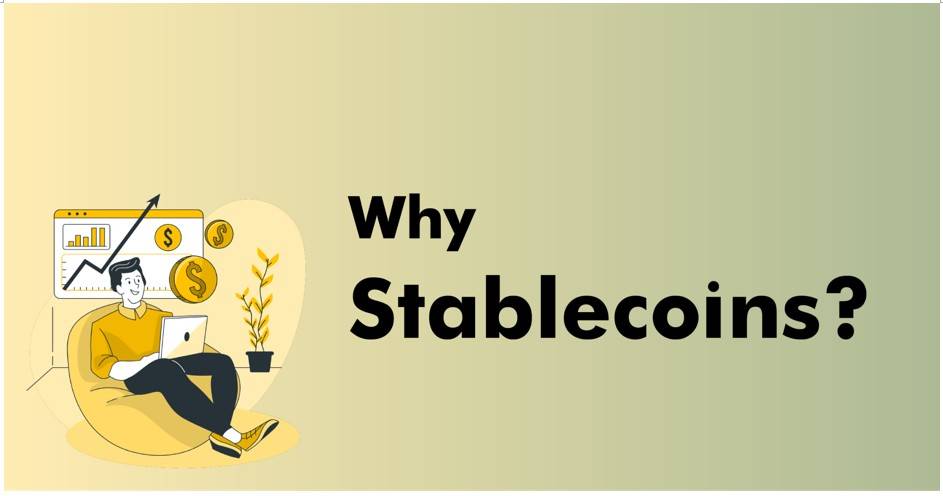 Why Stablecoins?
Unlike cryptocurrencies, stablecoins are not subject to highly volatile market conditions. A decade ago, a programmer purchased a pizza for 10,000 bitcoin, which accounted for $30 at the time. However, today, that same order will cost over 500 million dollars!
The sudden and extreme surge in price has resulted in fear among business owners and organizations. Many businesses are still hesitant to use cryptocurrencies as a valid means of payment. Interestingly, with Tesla and other companies announcing their acceptance of cryptocurrencies as a means of payment, more and more companies are joining in.
Interestingly, stablecoins, on the other hand, share the benefits of cryptocurrencies such as transparency, security, immutability, digitalization, fast transactions, low fees, privacy, trust, and stability that come with using fiat currencies.
Primarily, crypto-asset holders often used stablecoins as an escape plan for a potential market crash. Considering the history of the cryptocurrency market, crashes are more likely to happen here than in any market.
So, asset owners would convert their bitcoins or other assets to stablecoins within minutes on a single platform, mitigating potential market losses. Without this option, asset owners would have had to turn their assets into fiat currencies which would've been impossible or too costly at the time.
This was one of the many emerging use cases of stablecoins; however, before we can dive any further, we need to understand the different types of stablecoins.
Stablecoins: The Types
Fiat Collateralized Stablecoins
As the name suggests, these stablecoins are collateralized, secured, or backed by a notable fiat currency like the European Euro, the US Dollar, or the Great Britain Pound. Fiat-backed stablecoins are pegged at a 1:1 ratio, meaning one stablecoin is equal to one unit of an asset or currency. Interestingly, Fiat collateralized stablecoins are the most common type of stablecoins used worldwide.
Today, Tether (USDT), the fifth-largest cryptocurrency by market cap, has the highest daily trading volumes of any cryptocurrency, including Bitcoin.
Commodity Collateralized Stablecoins
Commodity-backed stablecoins are collateralized by interchangeable assets such as precious metals. The most common commodity to be backed is gold; however, various stablecoins are backed by oil, real estate, and various precious metals.
Commodity-backed stable coins primarily hold tangible assets that have real value, unlike cryptocurrencies. Moreover, these commodities often have the potential to surge in value over time, which provides increased incentives to people to hold and use these coins.
Digix Gold ( DGX) is an ERC-20 token collateralized by physical gold, where 1 DGX represents one gram of gold.
Crypto Collateralized Stablecoins
Crypto collateralized stablecoins are backed by cryptocurrencies to absorb the aggressive price swings. To control the volatile market conditions, these stablecoins are often over-collateralized.
Non-Collateralized Stablecoins
As the name suggests, non-collateralized stablecoins aren't backed by anything. Although this may seem confusing at first; however, these are the most decentralized and independent form of stablecoins. Although, Non-collateralized Stable requires consistent growth to be successful and could lose all of its value in the event of a crash.
Conclusion
Stablecoins have a plethora of real-world uses such as a day-to-day currency, streamlining recurring P2P payments, enabling fast and affordable remittances for migrant workers, and protection from local currency crashes and market volatility, and improved cryptocurrency exchanges.
It's not long before Stablecoins are widely accepted as the primary currency around the world. With the market worth over $66 billion and a daily trading volume of over $300 billion, it's not a matter of how but a matter of when Stablecoins dominate the world.
About MyCryptoParadise:
With over 6 years of experience, MyCryptoParadise offers some of the best cryptocurrency trading signals in the market. We offer some of the most intuitive technical analysis, educational content, current updates, and news reports in the industry that help our customers take the edge over their competition. Moreover, our established market insights enable our customers to generate the most profitable trades and gains in the market. With new and updated content on TradingView, Youtube, Telegram and Facebook and Instagram we offer our customers with the most informed valuable and insightful content that enables them to take their trading game to the next level.
Now you don't need to spend hours of your time, analyzing charts making uninformed strategies spending your fortune on risky bets. You can follow the best advice and trading signals from MyCryptoParadise and benefit with huge profit and gains. MyCryptoParadise has a proven track record of very profitable trading and happy customers. Join us and become part of a thriving community of members who are taking their trading game to the next level.