The third wealthiest man in Mexico, Ricardo Salinas Pliego, has updated his Twitter biography to include Bitcoin. This move has picked up a trend among high ranking investors in the cryptocurrency, including BTC whales such as Michael Saylor and  Anthony Scaramucci.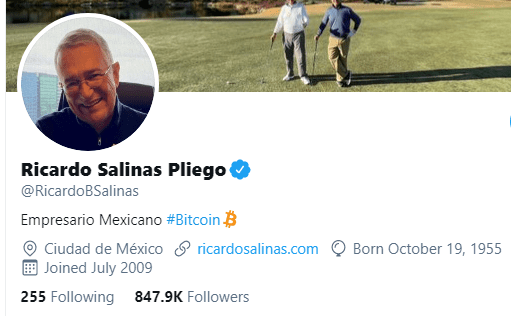 Ricardo Salinas Pliego is the chairman and founder of the conglomerate Grupo Salinas. The organization is a corporate conglomerate consisting of a  Mexican media- TV Elektra and radio network Grupo Elektra.
The tycoon has an estimated net worth of approximately $13 billion. According to Forbes, he is the 106th richest person in the globe, a position he ties with Lui Che-woo of Hongkong.
Salinas' followers on the platform have rumored to have noticed the bitcoin hashtag on his Twitter bio last Saturday. Around this time, the price of Bitcoin surged to an all high rate of $40K for the first time in three weeks.
The crypto market volatility is currently at its best.
Ricardo's Bitcoin Journey
Last year, Salinas revealed that he had bought his first-ever Bitcoin in 2013 when the price was $200. He hodled the asset and sold it for $17000 when bitcoin hit a bull run in 2017, terming the asset as his best investment ever.
He has bought another batch of the asset, doubling his initial amount this time, and has promised not to sell for at least another five years. In fact, 10% of the liquid portfolio from his company has been invested in BTC.
Market Movers
The digital assets industry is among the most volatile markets in existence.  A single tweet from highly valued personnel could influence the market trends for days on end.
Evidently, the richest man on the planet, Elon Musk, has successfully riled up the cryptocurrency Dogecoin after updating his Twitter bio with the 'Former CEO of Dogecoin.' In just a month, DOGE has seen its prices rise by almost 600%.
The third wealthiest man in Mexico has done it too.