The announcement of withdrawal restriction on a Malta-based and globally the second-largest cryptocurrency exchanges OKEx came as a shock to the entire crypto community. It happened after one of its core custodians cooperates was put under investigation, a move being taken by the public security bureau to counter increased money laundering activities in the crypto market in the recent past.
As soon as the news were in the public domain, major cryptocurrencies sold off while bitcoin price in OKEx dropped by 3% in just 30 minutes to about $11,182 from a rough average of $11,300 as at the last check of Friday morning.
An official public notice was published on OKEx website, informing the exchange users that withdrawal transactions will not be validated due to a temporary suspension starting October 16, at 11:00 (Hong Kong Time) as a way to cooperate with public security bureau investigations.
A few hours after withdrawal interruption, the arrest news from Chinese newspaper Caixin of Star Xu, the founder of OKEx when viral on Tweet. Xu apprehension is being linked to fraud investigation back in 2018.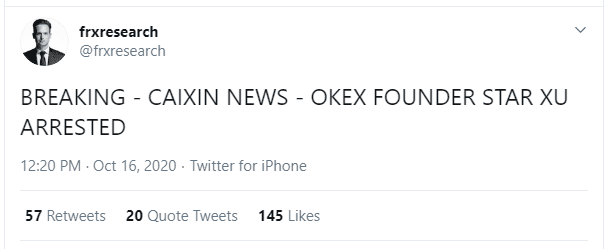 Despite the suspension, OKEx customers were assured that their digital assets will be safe and other functionalities of the website will not be affected in any way. OKEx when ahead to apologize for the inconveniences they have caused to their valued customers. Further, an assurance to resume cryptocurrencies withdrawals as soon as the investigation is over.
A few hours prior to the announcement, Whale Alert, an on-chain transaction monitoring service noted huge transfer from OKEx to unknown wallets, actions that have raised more suspicion.
For instance, a 1,180 BTC outgoing transfer worth $13.6 million, 21,000 Ether (ETH) and a 50 million Tron (TRX) with an estimated value of $1.3 million to place simultaneously. Conversely, an incoming Tether USDT transaction worth $13.9 million, a transaction that occurred the same time when Bitfinex hack was detected according to Whale Alert's feed.
However, CEO OKEx Jay Hao demised the unexpected transaction claiming that it is just a coincidence as such transaction takes place on the exchange every day. He added that the investigation would not affect the business because it was "personal issue" targeting a few suspected accounts.
According to Hao's Tweet, non-crypto assets withdrawals should remain unaffected during the suspension period. Therefore, users can go ahead to withdraw, send, receive and sell non-crypto assets on OKEX before everything resumes.