Santa brought a new name as a Christmas gift to the downtown Los Angeles arena, the Staples Center. The home of clubs such as the Lakers, Clippers, Kings, and Sparks will go by the Crypto.com Arena.
Crypto.com Signs One of the Biggest Names Deals in Sports History
The new name is a product of a partnership between Singapore crypto exchange crypto.com and the owner and operator of the arena AEG. The partnership stipulates that the arena will wear its new name for 20 years. Sources close to the partnership revealed that crypto.com paid $700 million to AEG, making it one of the biggest names deals in sports history.
While the announcement went out in November, the Crypto.com Arena officially took its new name on Christmas Day. The venue announced the take-over on Twitter.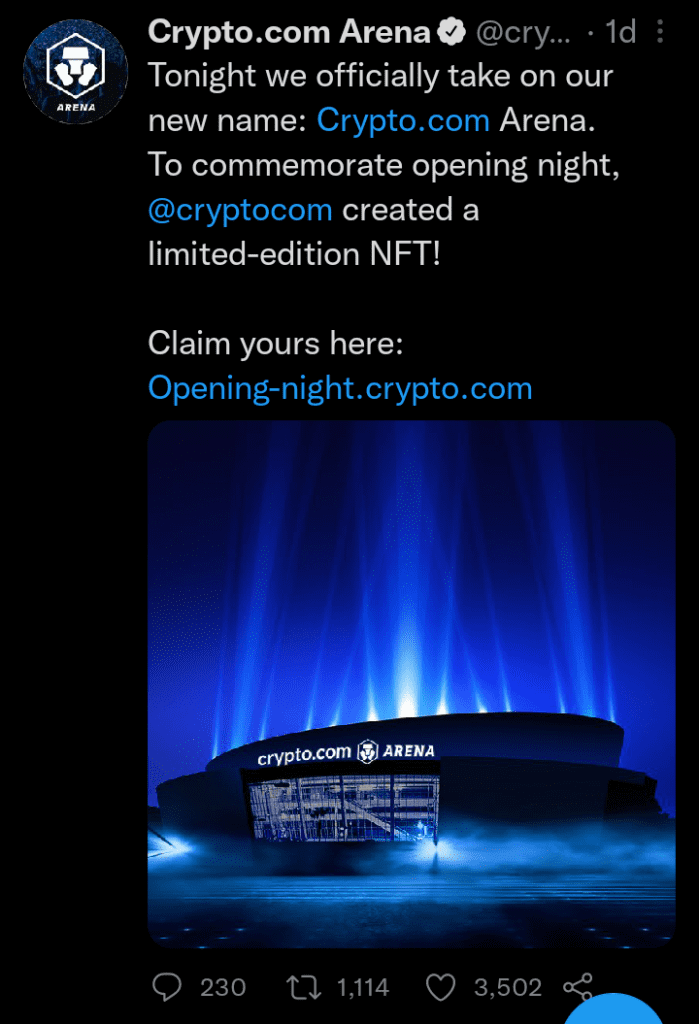 The downtown LA arena has held the name of Staples since it was built in 1989. Staples is an office supply chain that has seen tough years in the recent past. The Singapore exchange Crypto.com, on the other hand, has experienced tremendous success since its inception in 2016. Its products include the crypto.com exchange, crypto.com DeFi Wallet, and the most recent crypto.com NFT.
Out with the Old, In with the New
AEG CEO Dan Beckerman stated that the partnership is about the future. Staples represents the past while Crypto.com is the future. Beckerman added that AEG and Crypto.com share a vision about innovation and the future of sports and entertainment. Additionally, AEG is anticipating a more meaningful initiative with Crypto.com moving forward.
Crypto.com recognized that fans have always known the downtown LA arena as the Staples Center and may be reluctant to use its new name. However, Crypto.com's chief marketing officer Steven Kalifowitz said that fans could call it whatever they want, and the exchange would be okay with that. Crypto.com is after a broader strategy to increase its awareness, which will bring growth to its business in the long run.
If you are ready to upgrade from your FREE telegram membership and see in a real time crypto trading signals and portfolio diversification of the ParadiseTeam, use BESTSIGNALS3% as the promo code  and join PardiseFamilyVIP with this limited discount now ! You can choose from Binance VIP, Bitmex, Bybit or newly kraken and FTX vip as well.