MyCryptoParadise | Crypto News | Weekly 3
My crypto paradise weekly news is here and this is the final edition of MyCryptoParadise | Crypto News | Weekly 3. Crypto News Weekly 3 has all the trending news of the week.
What's new this week in the crypto world?
This past week has brought up exciting new developments in the crypto world. The global online transaction company has confirmed that its stepping into the crypto currency trading space. Bitcoin finally crossed the $10,000 mark maturing 9.33% in 24 hours. While an Ethereum-based DeFi soared over 11000% in under a week, reaching $4000 in value. Needless to say Cryptocurrencies have covered a considerable amount of ground over the past week.
Overview
In the past few weeks, investors were washed with relief after crypto winter finally came to a conclusive end. With newfound acceptance from the US office of the controller of the currency, OCC, all licensed banks in the US were allowed to accept cryptocurrency custody offers. The US office further illustrated its acceptance of the digital asset by encouraging banks to store and manage cryptographic keys for its members.
In other news, the total crypto industry market capitalization peaked at $300 billion since. With Bitcoin enjoying a good week with an upward trend, however, in the proportion of 'popularity,' Bitcoin has struggled over the past few weeks.
In a very interesting development leading transaction companies have finally put their feet in crypto waters. With the global FinTech giant Paypal confirming development of crypto currency capabilities on its platform. Paypal is on a hiring spree for both engineers and service providers who will be working on integrating crypto capabilities on the existing PayPal technologies. The crypto community is also speculating that the platform, and its payment application Venmo could soon be implementing crypto payments and wallets. Although the details are yet to be prescribed, the evidence is still ambiguous.
However, giants such as Paypal showing interest in cryptocurrencies shows good signs. With Paypal's successful history, it's only time cryptocurrencies thrive in the same way.
There have also been strides in the Ethereum's decentralised Finance sector, with  the fantastical growth continues to persevere with assets peaking around $4 Billion. Some success may attribute to YFI token, an Ethereum-based token launched as governance by developers at Yearn Finance Protocol. Initially worth $0, YFI projected a 2000% increase in value.
In light of these recent events, crypto pundits have been indicating positive bullish trends. In this article, we'll thoroughly discussing how cryptocurrencies have come out of a ditch and analyse if it is finally time to look towards stability, especially when large transactional companies are interested in the digital asset.
Our team at MyCryptoParadise has been actively monitoring the crests and troughs of cryptocurrencies with our free crypto signals on telegram. At MyCryptoParadise, we are strongly advocating in providing some of the best crypto signals ranging from Binance signals to Bitmex signals, and Bybit signals.
Before we get in-depth with the news will discuss the rise and fall of notable cryptocurrencies in the market.
Market news
Bitcoin news

Bitcoin has finally gone past the $10,000 level over the day for the first time since June. Experts speculate the rise in value could correlate with the newfound acceptance from the US office. Banks in the US were encouraged to offer cryptocurrency custody to their members.
The asset is expected to project bullish trends despite the resistance from bears. Experts predict the asset to break the $10,800 barrier resistance to over $11,000. More on that later, you can find out more by joining the ParadiseVIP membership where you'll get a one-on-one learning experience with one of our seasoned traders.
Ethereum News
After seeing downward trends for two months, Ethereum has broken the $250 barrier range. Bullish investors have been impatiently waiting for an upward trend. In response to the asset breaking above the range, investors participated in aggressive buying, pushing the leading cryptocurrency to the top of the charts, projected a $320 price. Moreover, the RSI index has peaked over 80 levels, illustrating the asset's overbuying by enthusiastic investors.  The YFI token has emerged from $0 to $3907, with a 95% rise in 24 hours. In conclusion, YFI has projected a gain of over 11000%. Data suggests YFI's supply amasses to 26,000 tokens with its trading volume capping at the $53M mark. The limited amount of tokens has enabled investors to invest in the asset aggressively thanks to its incentive program, which promises assets holders an interest of 1000%.
Despite Ethereum's success in boasting one of the highest increases value within the last month, Ethereum projects a 21% gain. In comparison, Ethereum's DeFi sector tokens have outshone major cryptocurrencies with record-high gains. Some other examples also include Aave's loan protocol. Their token has projected increasing performance with a 90% gain over the month.
Monero
The platform launched the Haven protocol.  The protocol recently advertised an expansion to include a new stable coin that constitutes to the USD, 'xUSD.' The Haven protocol inherits all of Monero's privacy features. Monero projected between $60 and $70; however, the asset broke past the barrier last week. Our index suggests that bullish buyers have dominated the bears.
Other Important News Updates!
The US Office Allowing for Banks to Offer Crypto Custodies:
The OCC controller of the currency, allowed banks in the US to offer cryptocurrency custody services. The office further advised banks in the country to store and manage members' cryptographic keys.
Mastercard; The electronic payment system that leads the world in procession transaction communications has finally got on board with cryptocurrencies. Mastercard is reportedly reaching out to cryptocurrency platforms. They have asked banks and platforms to apply for partnerships as part of its revolutionary cryptocurrency card program. With Mastercard advocating a cashless economy, the ecosystem seems to be going in the right direction.
In other parts of the world, South Korea has reportedly introduced a 20% tax rate for all incomes produced through crypto-trading. The community has shared its concerns with governments correlating with the decentralized system.
Interestingly, with the newfound acceptance of the US government, experts speculate that Bitcoin is inching towards an explosion under the new conditions set by the government. With some researches predicting a 1% increase in the institutional allocation of Bitcoin.
Crypto Developments in India
India was successful with the current Apple inquisition, with Tech giants such as Google and Foxconn investing in the country. Now India is making strides in the crypto currency space with the country's largest IT exporter, Tata consulting stepping into the crypto space by launching Quartz a crypto trading platform.
The Quartz Smart Solution is a cryptocurrency trading platform for banks and investments. There is support for fiat currencies and crypto in the form of digital assets and coins, the intention is to offer a lot of interoperability and flexibility for customers.
The platform developed in collaboration with Quartz, a blockchain startup incubated by TCS.
United Kingdom
With the newfound acceptance of Cryptocurrencies by leading payment giants and economies has resulted in approval from many governments. Interestingly, the Bank of England's governor has hinted towards introducing a 'probable ' cryptocurrency backed by the central bank of the UK in a recent discussion with students over the web over virtual currencies and its uses.
MyCryptoParadise
We have an impressive portfolio in the crypto trading space. Our team is constantly on the lookout for best avenues in the market. Through our valiant efforts, our crypto trading signals are based on deliberate, considered, planned, and calculated analysis.
We base our crypto calls on a carefully calculated analysis, using state of the art AI-based algorithms. We also actively integrate Dow's theory to provide the best crypto signals and best crypto calls. Our strategy helps us deliver to our promise and and our premium members in the ParadiseFamilyVIP  get timely trading signals ranging from Binance crypto signals, Bitmex crypto signals, and Bybit crypto signals.
We have a dedicated research team that conducts research and analysis enabling us to predict the right market indicators. Our research approach helps us predict market trends resulting in maximised profits for our VIP clients. Our team is both analytic and data driven in its approach.
Did you know,  Our Paradise Team also offers free crypto signals on telegram! And Yes! We do share best crypto signals that reflect some of our best risk/ reward strategies emphasising profits instead of stop losses.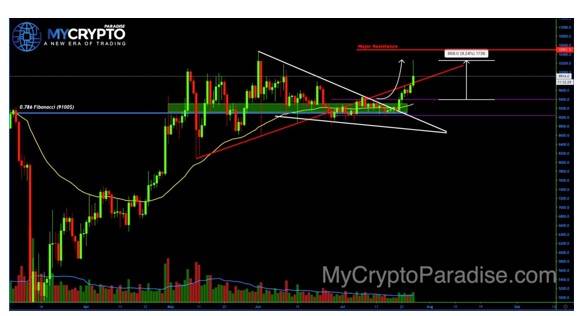 We rely on the Telegram platform to ensure anonymity, security, and accessibility. As we highly value our user's data, convenience, and security. There are a lot advantages of joining our Paradise Family VIP group. Which includes getting up to 80 highly professional, calculated, and data accurate crypto trading signals from our highly seasoned team, The Paradise Team.
You also get the best crypto trading signals for Binance, Bitmex, and Bybit on Telegram. What makes us different from the rest is that our crypto trading signals  are based on an informed and in-depth analysis of the market. We are focused on sustainable long term profits only.
Conclusion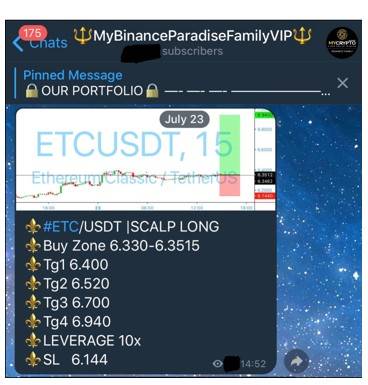 In light of the recent events, it may seem that cryptocurrencies are finally getting the acceptance they deserved. With governments, global economies, and payment giants heavily investing in the financial medium, the result will be phenomenal.
Ethereum's DeFi sector outshining major cryptocurrencies with record-high gains and Bitcoin's 10,000$ barrier looking bleaker than ever, the ecosystem is set for an upward trend.
The US office's statement is huge for cryptocurrencies and fiat currencies to co-exist and for digital currencies to utilize worldwide transactions regardless of geopolitical barriers.
A lot has happened this week, stay tuned for more as we at  MyCryptoParadise will try our best to provide you with the latest crypto alerts.
That's it. We hope you like our Crypto News Weekly 3.  you have any questions or have feedback regarding our Crypto News Weekly 3 then let us know in the comments section