The tech giant Microsoft has hinted to be considering the introduction of a Bitcoin payment option at its Xbox gaming console online store.
On a Reddit post on March 21st, Microsoft ran a post on Reddit posting, which included a survey where they asked XBOX users about their preferred payment option and whether BTC would be a preferred option.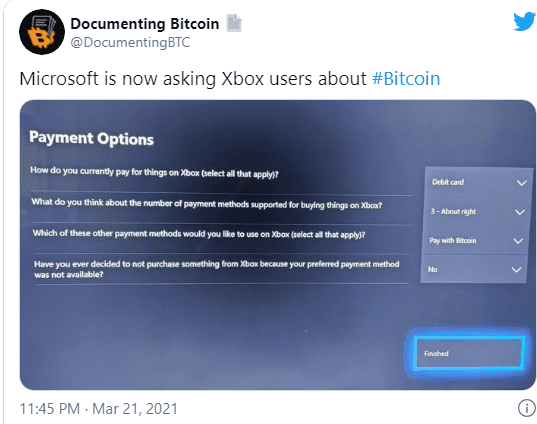 The post has since circulated over various subreddit accounts, including r/ethtrader and r/Bitcoin. The question has similarly be poised to in the Xbox Insider program for beta testing of their operating systems updates.
The History of Microsoft with Bitcoin
Microsoft is not a new player when it comes to the new market trend that is cryptocurrencies. Microsoft first started accepting bitcoin funds back in 2014, where users could purchase Windows online content- and that included XBOX games.
For unexplained reasons, at around 2017-2018, the company halted these payment options.
Crypto payments have since been halted by the company only until January this year that the option was reimbursed. Currently, crypto-based payments are not accepted on the online XBOX stores, but you could buy apps, games, and other digital content from Windows.
As the company deliberates accepting bitcoin payments for their online XBOX stores, it has remained clear that they do not intend to make mega crypto moves as Tesla did. Speaking in an interview just after Tesla invested $1.5 billion in Bitcoin, the CEO of Microsoft, Brad Smith explained that the firm did not have any future diversification plans into the cryptocurrency space.
In the instance that the company introduces a Bitcoin payment option at its Xbox gaming console online store, the coin can be redeemed as a credit card on a Microsoft account.
Once Microsoft reimburses its XBOX bitcoin payments, this will help maintain the cryptocurrency's rising prices- not that it needs it. At the time of writing, a bitcoin sells at $57,974, and a plethora of online activity concerning it has been noted.