Savage hitmaker Megan Thee Stallion, in partnership with Cash App, is giving $1million worth of bitcoins to lucky fans on Twitter.

Cash App is a digital payment system owned by Square- the other company of Twitter's CEO, Jack Dorsey.
In a move to boost Megan's endeavor and validate its authenticity, Jack retweeted her post.
Since her post went up on 17th December, thousands of people have participated. A number of Cash App users have provided screenshots confirming bitcoin acquisition from Thee Hot Girl Coach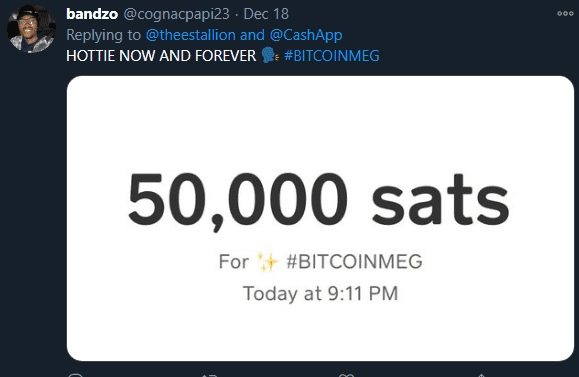 The sats gifted by the savage hitmaker's bitcoin donations range averagely from 43,000 to 50,000 units.
Megan is no newbie to fan appreciation; she has quite the knack for it. In August, the Savage hit Maker gave away 1 million dollars in celebration of the 'WAP' collaboration with fellow rapper Cardi B.
 She tweeted, "We're partnering with Twitter and Cash App to celebrate all the powerful women out there by giving away a total of 1 million dollars. How can some $ help you or a woman you know right now?"
Participants had to upload short bios on themselves with an accompanying #WAPParty hashtag alongside their Cash App account names to qualify.
Thee Stallion is a diehard girl-power advocator. From her music to her lifestyle and her voluntary acts, the savage hitmaker goes all out in support form womem empowerment. In October, Megan partnered with Rap Rotation to spearhead the launch of a scholarship that would award 2-10,000 USD scholarships to women of color pursuing any type of degree worldwide.
Evidently, her reputation proceeds her, and it is a no brainer how the savage hitmaker's bitcoin donation proceeds received overwhelming participation.
Rappers in Bitcoin
Megan is the newest rapper to announce their adventure into the crypto world publicly. Lil Yachty spent the entire last month promoting an NFT auction and popularizing his own coin-the YatchyCoin.