Lulu is a UAE-based crypto exchange partnering with Ripple to use its global payments network for cross-border transactions. The exchange has announced today its collaboration with payment behemoth MasterCard to speed up remittances sent over the Lulu Money App.
Ripple will improve Lulu's payment system by employing its Mastercard Payment Gateway Services (MPGS) to make transactions faster and safer.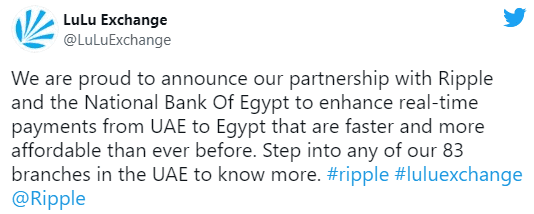 Lulu will process remittances through a single sign-on
The collaboration between Ripple and Lulu first caught air in may this year after Lulu announced it over a Twitter blog post. The alliance linked Ripple to the National Bank of Egypt in order to encourage real-time payments from UAE to Egypt.
With the Mastercard Payment Gateway Services (MPGS) in place, Lulu will allow Mastercard users to process payments with no extra merchant charges. Also, Payments sent via the Lulu money app will be supported by Matercard's Cross-Border Services. This means Lulu will be able to process payments in just a single connection. This feat from the Lulu exchange is remarkable and will set it apart as the first platform in the UAE to use the Mastercard Payment Gateway Services for digital payments via their mobile app.
The Senior Vice President of Mastercard in Africa and Middle East, Ngozi Megwa applauds the partnership. According to her, Mastercard's partnership with major fintech companies such as Lulu is crucial to promote digital economy inclusivity and a better payment experience for everybody.
Lulu's Revolution Trials
This UAE-based exchange must be applauded for its unending efforts to improve service delivery to its customers. Not so long ago, payment giant MoneyGram also signed a partnership with the exchange's financial holdings to upgrade the Lulu money app that integrates with MoneyGram's API. The partnership allowed MoneyGram to expand to areas like Oman and Asia-Pacific that kept promising remittance outflows, adding up to $149 billion.
To get a discount whenever subscribing to Mycryptoparise membership package of your choice use BESTSIGNALS3% as your promo code.