The crypto coin Litecoin took to Twitter yesterday to announce the roll put of its very own Visa debit card.
The tweet read that "Litecoin is accepted anywhere VISA is." It then added that the Litecoin Card, which is the equivalent of Visa debit card linked to a Litecoin wallet, will convert the altcoin at the time of purchase.
Moreover, Litecoin traders who already own a Visa card would not need to get the Litecoin card again. Rather, it will be possible to connect the existing Visa card to the Litewallet application.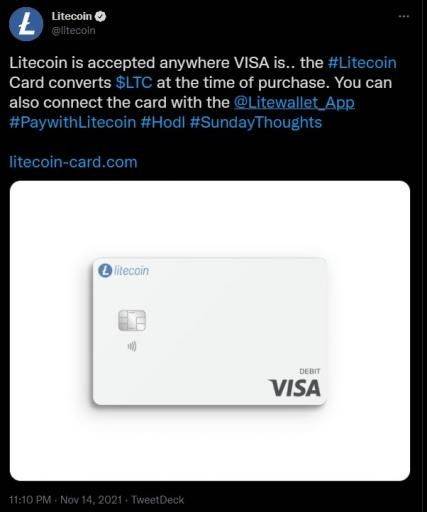 Litecoin Card's Convenience as a Payment Mode
Crypto coin Litecoin has proved to be a convenient payment mode for its users. The digital coin is featured with low transaction fees, secure and a borderless payment system. Litecoin has particularly gained popularity in consumer finance as far as its applicability in making everyday transactions.
The Litecoin Visa debit card means that the open-source altcoin will be available to all Visa partners. The network of Visa partners is in a variety of industries such as e-commerce platforms, restaurants, digital service providers, retails, and many more.
The Litecoin Foundation promises there will be no transaction fees or deposit fees for users of the Litecoin card. The only charge will be a $5 monthly fee to the owners. The monthly fee can however be waived once the user exceeds $750 each month.
Global Rollout of the Litecoin Visa Debit Card
With its already earned wide acceptance and usage among merchants, this rollout of the Litecoin Card is bound to expand the altcoin's reach more.
While the Litecoin Visa debit card might be a new thing for some people, it is worth noting that the feature has been available to users in the United States for close to a year now. It is uncertain whether the announcement means that the feature will now be available for global users.
If you are ready to upgrade from your FREE telegram membership and see in a real time crypto trading signals and portfolio diversification of the ParadiseTeam, use BESTSIGNALS3% as the promo code  and join PardiseFamilyVIP with this limited discount now ! You can choose from Binance VIP, Bitmex, Bybit or newly kraken and FTX vip as well.