Jack Dorsey, the CEO and co-founder of Square, has announced the debut of one of the most famous Hip hop artist, Jay Z, as a board member of the company. This announcement comes timely after Square purchased TIDAL from the artist.
TIDAL is an exclusively owned streaming service by Jay Z. It has been set out to support artists at each level on their careers as well as stream music. Jack Dorsey bought the majority ownership stake for $297 million, and collaboratively, the two shall continue to "empower artists and create a more sustainable, collaborative, and beneficial music industry."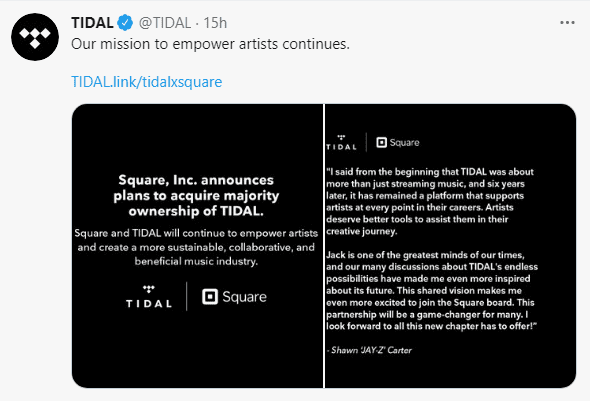 What is the Game Plan for the New Collabo?
Ever since its founding, TIDAL has always be purposed to be more than just a streaming platform. Jay Z proposed it to be a platform that supported artists all through their careers. Now that Square purchased TIDAL, the collaboration will avail the artists with better tools to assist them in their creative journey.
In the partnership, Square will be able to extend its purpose of economic empowerment. As it stands, the company has helped millions of companies start and grow, especially with its cash app services that have helped interconnect millions of customers.
With such inexperience, the company will leverage the skills accumulated over the years and devise ploys artists can benefit from.
Is TIDAL a Promising Candidate for the Vision?
The simple answer would be yes.
TIDAL is the only music service to be created for artists by a fellow artist. TIDAL offers premium listening services in high definition videos. It offers more than 700 million songs, and its global presence has traversed to 56 countries with over 100 label partnerships.
Shawn Carter, AKA Jay Z, is a force to be reckoned with. He is a distinguished artist, a prosperous businessman, a philanthropist, and if that isn't enough, Beyonce's husband. He has continuously and truthfully been committed to giving back to the underserved communities, and in the process, revolutionizing the game. As a board of Director at Square Co., it is a new dawn.