During a planned press conference, Gerry Rice, an IMF spokesperson, said that the use of bitcoin as legal cash creates various financial, macroeconomic, and legal challenges that demand extremely careful examination.
El Salvador's Bitcoin move
El Salvador became the first nation in the world to use bitcoin as legal tender after Congress accepted President Nayib Bukele's plan to accept the cryptocurrency on Wednesday, a decision that cheered cryptocurrency advocates.
Despite worries about the possible impact on El Salvador's IMF program, lawmakers supported the move to establish legislation to welcome bitcoin, with 62 of the 84 viable votes.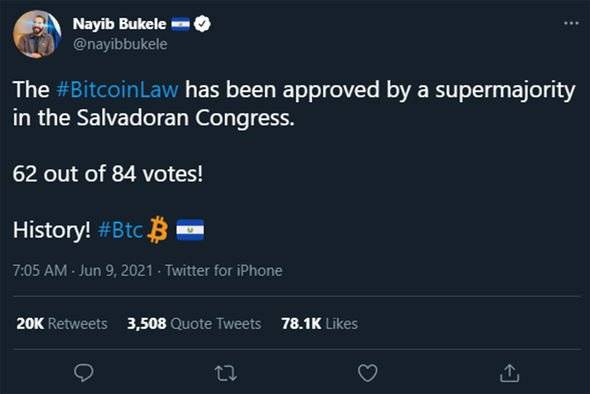 Bukele has welcomed the use of bitcoin for its potential to allow Salvadorans working overseas to send remittances home while also maintaining that the US dollar would remain legal tender. El Salvador lacks a currency.
In a tweet immediately before the vote in Congress, which his party and supporters control, Bukele said that it would bring investment, financial inclusion, tourism, economic growth, and creativity to their nation.
According to the IMF, they are constantly monitoring events and will continue to communicate with the authorities.
Effects of the Bitcoin plan
According to Siobhan Morden, director of Latin America Fixed Income Strategy at Amherst Pierpont, the aspirations for Bitcoin under a more dictatorial administration would likely exacerbate worries about corruption, money laundering, and regulatory agency independence in a letter to Bloomberg.
Meanwhile, the Republic of the Marshall Islands (RMI), a tiny and isolated Pacific island government, was cautioned by the IMF in 2018 about its currency initiative.
The Fund said at the time that the potential advantages from revenue increases seemed to be far lower than the possible costs from reputational, economic, and governance problems, as well as Anti-Money Laundering and Countering Financing of Terrorism.
The Government rejected the warning and, in 2020, teamed with Algorand to construct a blockchain for the Marshallese sovereign, its first national digital currency (SOV). This year, though, there were no developments on the project.
El Salvador's President, Nayib Bukele, will meet with the IMF today to discuss the Bitcoin legislation, as the nation is negotiating a USD 1 billion program with the Fund.