The Democratic-controlled House, on 1st October 2020, voted to pass the revised version of its stimulus bill, now the Heroes 2.0 stimulus bill. Notably, the legislation is not likely to pass and become law. The bill was approved by 214 to 207 and is likely to collapse in the Republican-controlled Senate.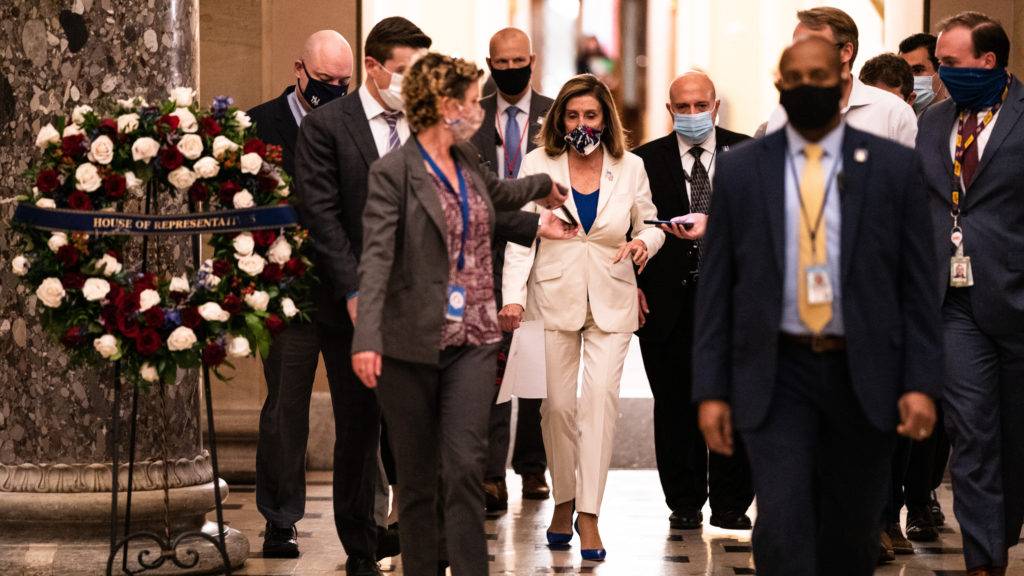 Speaker Nancy Pelosi from Stimulus Bill Negotiations |NY Times
Proposed Benefits
The legislation proposes the following:
Sending a second $1,200 direct payment to most Americans
Inputting $225 billion into education and $57 billion into child care
A $436 billion relief over one year to state and local governments
Inputting $75 billion into Covid-19 testing and contact tracing efforts
Approving additional funding for a second round of Paycheck Protection Program loans for the businesses and industries that have been worst affected by the pandemic
Ongoing Negotiations
The $2.2 trillion stimulus plan offers benefits such as stimulus checks, funding for schools to aid in reopening, and improved benefits for the over 21 million unemployed Americans. This proposal is opposed by the Republican Senate Majority Leader, Mitch McConnell, as the Republicans seek to reduce federal spending in response to the Covid-19 pandemic.
There have been ongoing negotiations between Speaker Nancy Pelosi and Treasury Secretary Steve Mnuchin to reach a deal on a bipartisan stimulus plan. The negotiations are likely to proceed and if successful, will require another draft for the bipartisan bill. On the same day, the White House countered with its package proposal summing up to $1.6 trillion. Despite the countering parties agreeing to talks, they admit that they are far apart.
What Now?
While both Democrats and Republicans agree on some components like stimulus payments, aid for airlines, and extension of the Paycheck Protection Program for businesses, their differences could hold the bill a little longer, possibly beyond the elections. Negotiations for a bipartisan stimulus bill before Election Day must be hastened to ensure that the bill is passed by the House, and Senate before finally being signed by the President. Otherwise, an alternative would be an Executive Order, or a new bill by a probably reconstituted House and Senate after the elections.