A recent report by the Bloomberg news website shows that JP Morgan, analysts of the global banking empire, have discovered what can increase Bitcoin reversal chances on the market.
They had this to say:
"Grayscale Plays A Key Role in The Bitcoin Market"
Based on JP Morgan's assessment, Bloomberg writes that the success of Grayscale and that of its BTC –based product is the current drawback for Bitcoin correction.
As of DEC 19, 2020, Grayscale currently has in its management a whopping $15.5 Billion worth in cryptocurrency as assets. This attributed to the Bitcoin instability, with an upsurge of $23000 and a slight decline, ranging in trade.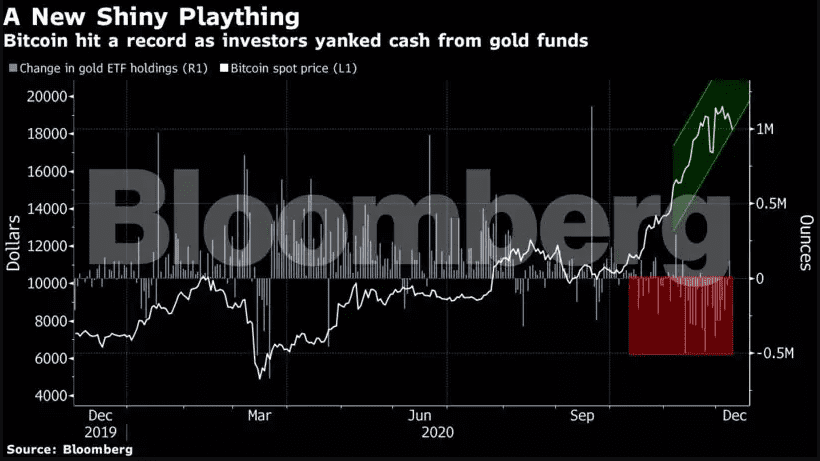 An approximate monthly rate of $1 billion in cash flow is taking place, as stated by Nikolaos Panigirtzoglou, a bank quantitative strategist from JP Morgan.
Negative Bitcoin Price Dynamics Held by Grayscale
Previously, the major bank analyst who shared his opinion on the likelihood of BTC being the digital future gold mine has written that clients have invested adequate funds into the Grayscale Bitcoin trust to maintain the current market price. His prediction about the likelihood of bitcoin becoming digital gold in the future.
However, the analyst also added that a slowdown to Grayscale inflows by these large-scale corrections might be brought down, as was the case in the second half of last year. According to statistics in June last year, Bitcoin declined 44% to $7158; this is after hitting the per one coin after hitting price peak.
Elon Musk Hints on The Move to Bitcoin
Elon Musk, Tesla and SpaceX CEO, hinted at the move to bitcoin after tweeting 'Bitcoin is his safe word', contrary to a previous tweet he made early this year. His recent tweet suggests he is considering a move into BTC.