The first crypto bank to ever be reported has begun operating in India. Unicas- the bank, is a joint venture between Cashaa and the United Multistate Credit Cooperative Society to establish a physical platform for cryptocurrency banking.
Customers will now be able to open bank accounts, buy and sell cryptocurrencies, own saving accounts, and get crypto-backed loans.
As per the bank's announcement, the first Unicas branch was opened in Jaipur on Monday the 28th. Plans are underway to roll out 13 other branches by January 2021 and additional 100 branches by 2022. During the first quarter of 2021, the crypto bank plans to onboard around 25000 customers.
This first-ever physical crypto bank will avail banking services for both crypto and fiat assets. For example, to be eligible for a loan, users will have to deposit digital assets onto their Unicas wallet and request a correspondent value of INR(local currency) in their credit cards.
Kumar Gaurav, CEO of Cashaa, further explained that in addition to banking, the crypto bank would also provide guidance services on the level of convenience and security blockchain technology offers.
Cashaa has previously been providing online banking services to exchanges, wallets, and crypto startups. Cashaa stands a better ground with the new partnership to access united regulatory licenses and physical infrastructure.
Commenting on the news, the CEO of Cashaa is confident about their move, as he termed; a necessary development for 'digital India.' When questioned by Cointelegraph over the physical facility, he answered;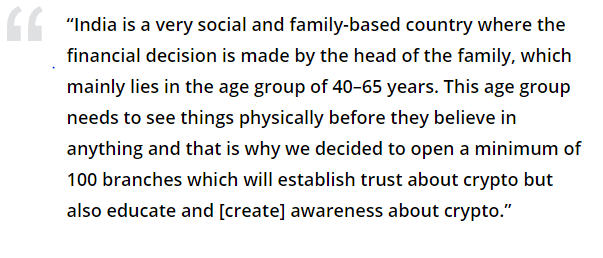 Despite regulatory uncertainties against the 'Digital India' prospects, the crypto market seems to be flourishing. With Unicas in the picture, the two partnering companies will now be able to build, scale operations, and offer customized financial and crypto services for the local Indian community.
By being the industry pioneer, the world is on the lookout to assess how Unicas will be incepted in society and hopefully form the grounding upon which other similar physical platforms will be established.