Ethereum co-founder Vitalik Buterin has published an updated roadmap for Ethereum 2.0 (Eth2). This update follows the Beacon Chain's successful launch that introduces the Proof-of-stake consensus model to the Ethereum ecosystem.
The updated technical roadmap marks the launch as Phase 0, and Mr. Buterin has acknowledged the roadmap as 'very rough and approximate.'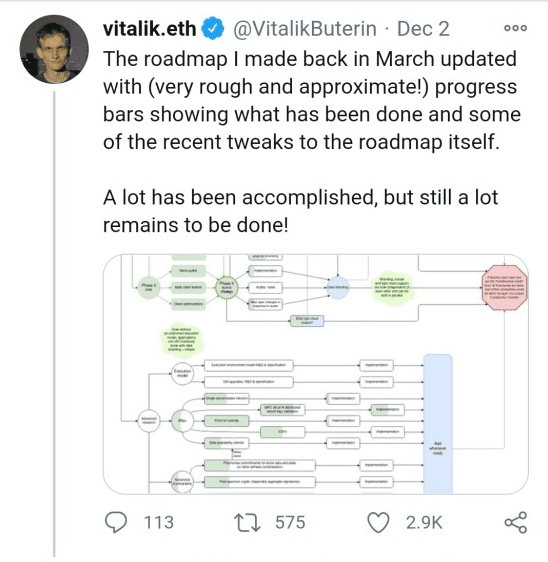 The development of Eth2 comprises three stages; Phases 0, 1, and 2. Introducing staking through the Beacon Chain in Phase 0 will bring no changes to the application layer. The next phase introduces data sharding with the upgrade expanding Ethereum's scalability and storage capacity without disrupting the application performance. The final stage of this development will introduce transaction sharding, allowing faster processing of transactions.
A key takeout from this development is that the current roadmap runs independently, parallel to Ethereum 1.0. Also note, the Beacon Chain cannot handle accounts or smart contracts. Mining will still be available via Proof-of-work on Eth1, while Eth2 will earn you rewards through staking.
Mr. Buterin committed at least $1.4 million worth of ETH before the launch of the Beacon Chain and has further proposed returns for staking will be between 1.56% and 18.10%, with variations depending on the ETH validating.
With massive enhancements of scalability, data sharding will expand the ecosystem's capacity to handle well over 10,000 transactions per second. This milestone could take a year to be achieved, given the updated estimates by Mr. Buterin regarding Phase 1 development progress.
Much work has started on various phases, but the progress is still miles away, as most projects are barely halfway done. These include critical milestones like the Ethereum 1.x initiative and advanced cryptography tasks, including cryptographic technology of polynomial commitments and arithmetic-friendly hash function.
Final thought
Currently, the Beacon Chain accepts staking from interested users who want to be validators and earn rewards in the process. Upon completing the project, the Ethereum ecosystem will boost its scalability, compatibility, and security. ETH's value could also rise as staking will lock up some ETH, hence reducing its supply.