Elon Musk, chief executive Tesla and SpaceX, Mentioned Bitcoin again in a cheeky tweet published Yesterday. In reference to the comments he made before about the leading digital currency, he said
 ''Bitcoin is my safe word.''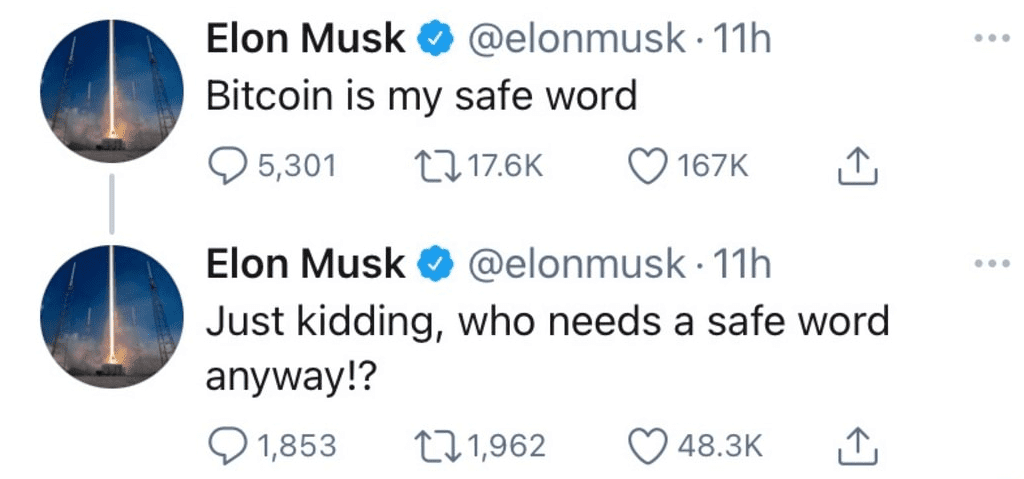 Being the latest tweet as he usually tweets regarding Bitcoin, Dogecoin, and other digital currency, he is impassionate in the crypto-asset market. The tweet went viral getting over 13,000 likes and gaining hundreds of others per minute. The whole crypto community was riled up.
According to a cryptocurrency analyst, The Moon, the tweet was meant to promote Bitcoin to over 30 million people following Musk. He posted a thesis showing how valuable BTC is, which was assumed to be a reply to the tweet.
A prominent podcaster in the BTC industry tried to use the moment in making Musk to joining his podcast. The Price of BTC up to this time is yet to react to this tweet.
During an exclusive interview with Cathie Wood of ARK Invest, he said Bitcoin, according to him, has a bright future, and he also added that BTC would greatly impact the financial world.
Besides Musk investing in digital currency, other great beneficiaries in this platform have shown their support over the recent months.
Musk earlier comments
Musk had earlier geared the whole situation into online misunderstanding when tweeting a photo of a sultry lady covering her genitals with a Bitcoin logo. Next to her was a monk and Musk captioned, "Me trying to live a normal productive life." At this point, the Chief executive of Tron, Justin Sun, cut the tension when he tweeted that they should consider taking Bitcoin private at $100,000.
Musk has often mentioned BTC and other cryptocurrencies in a humorous manner. At the same instance he joked about being the CEO of Dogecoin back in 2019 on April fool's day. He is probably just a bonafide fan of technology and digital assets.