Vocal, Eccentric and meme-loving Elon Musk took to Twitter yesterday and once again promoted the popular-rising Dogecoin.
The Tesla and SpaceX CEO shared a meme enticing his 50 million followers of a  throwback picture of him as a child. Still, instead, he shared the Shina Inu dog with the caption, "I have to keep my passion hidden from the public, or I'll be socially  ostracized."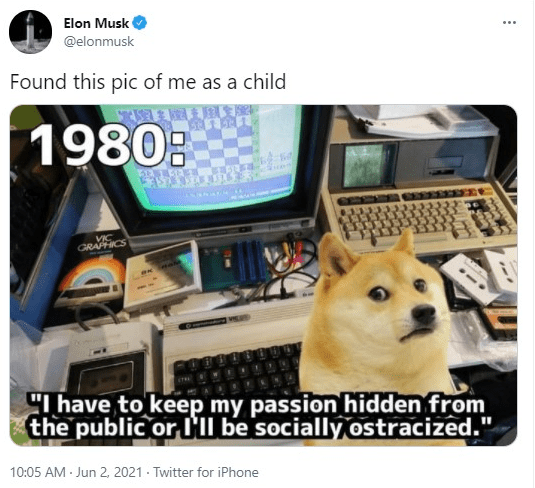 The subtext behind the meme's caption is no doubt in reference to the controversial cryptocurrency that started off as a joke and the groundbreaking levels it is steadily attaining.
Still, Influencing the Crypto Market?
In an interview late last month, Ethereum co-founder Vitalik Buterin told CNN that he is optimistic that very soon the crypto industry will build itself an immune system against Elon Musk's tweets.
In a logical perspective, having within one person the power to influence a whole market with just a mere tweet can be detrimental. Investors, traders, and the supportive community of cryptocurrencies deserve a somewhat stable market that should not be able to lose them funds in mere hours.
Inasmuch we subscribed to cryptocurrencies bearing in mind its volatility, natural market movements would better dictate price levels as opposed to a tweet by one person.
Within the last month, Elon has tanked the prices of Bitcoin and lessened the amount in circulation after questioning how environmentally friendly mining Bitcoin is. Still, he has immensely managed to keep Dogecoin in constant limelight within the same month by tweeting about it severally.
Notably worth, Elon's newfound passion for safer mining algorithms has not affected his Bitcoin collection. Both Tesla and Musk still hold their BTC even though the company stopped receiving Bitcoins as payment for their electronic cars.