It is said that with great power comes great responsibility, and Elon Musk has heeded to the phrase and taken an active initiative to encourage the green movement.
Legendary Tesla and SpaceX CEO Elon Musk has risen to be the sole individual in the world who can shift the crypto market with just a tweet.  That said, the Doge father has started encouraging more energy-conservative mining solutions.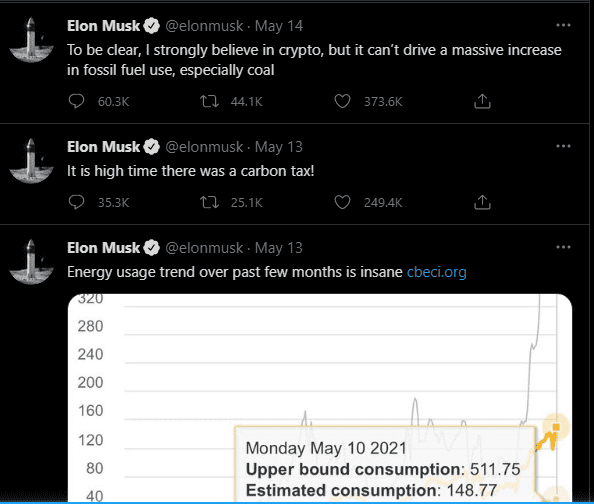 Do It As You Preach It
Last week, the world was shocked after Elon threw the biggest jab on Bitcoin that left its market cap disappointingly below $40,000.
On 13th May, the CEO announced that Tesla would suspend Bitcoin purchases under concerns of the rising use of fossil fuels. However promising cryptocurrencies are, they can not cost us our environment, he explained.
Currently, as the statistics lie, the amount of energy produced by mining bitcoins has started to exit that consumed in middle-sized companies. This insane progression in energy usage would not have been attained that fast were renewable and more energy-conservative mining solutions used instead.
This Green Movement is now a call to all crypto miners to come forth and disclose where and how much energy they use in their operations.
More Pump For the Dogecoin
With this conversation going on, it's probably the best window for the DogeFather to pump his protégé, the Dogecoin.
In an online survey where he asked, "would you like Tesla to accept Doge?" 71% responses were yes and 22% no out of the 3,922,516 votes cast.
Tesla will not sell any of its bitcoin holdings as of the latest communications but instead, keep them until mining became eco-friendly.
Ethereum, in the influence of the movement, has announced its shift to the proof-of-stake mining algorithm that focuses more on energy saving.