On Sunday, Mr. Daniel Larimer resigned as the chief technological officer of Crypto Project Block.one. According to Larimer's blog post, he has justified his resignation by quoting that "all good things must come to an end at a given time." Thus he is giving room for a fresh mind to take the lead.
Mr. Larimer had been working for Crypto Block.one since April of 2017. The firm was behind the entrepreneurial Operating Systems, which managed to raise four billion dollars for the period he was in office.
Mr. Daniel wrote that he would go ahead with his mission to build a free market, voluntary solutions for securing life, freedom, and equal justice for all people. Mr. Daniel also added that he wasn't sure what he was going to do next, but he felt he was leaning towards creating more censorship-resistant technologies.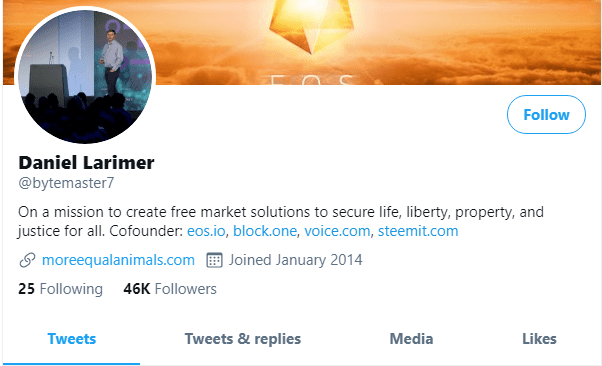 Mr. Daniel also stated that he would focus more on making tools that would enable people to secure their freedom. In an earlier blog post, Larimer said he would boycott Twitter since its censorship is becoming unbearable and at the same time going out of control.
Larimer comment on Trump's suspension from Twitter
Besides the president, Donald Trump suspension from social media sites following US citizens' death and distraction of property on Capitol Hill, which many believe that president Trump started. Mr. Daniel's next step is to defend the freedom of speech, which is more likely to be a political move.
Due to Mr. Daniel's departure, there has been a major decline in Block. One's EOS coin, which fell by 16%. Compared to other coins in the market, EOS's performance last year has nothing to be thrilled about. New Block. One's Chief Executive Officer, Mr. Brendan Bulmer, responded through a tweet claiming the company had accumulated higher than the figures announced of one hundred and forty thousand Bitcoin position.