Are You Prepared for The New Cycle?
Yello, ladies and gents🚬😎💰
💎Because we are in this crypto trading game for too long already, we know that long-term profitability success stands in anticipating market corrections. That's why we've been actively closing our long and spot positions with ParadiseFamilyVIP members for over 7 days ago already, taking advantage of the market top before the expected downturn which is happening right now. And you have been informed about that, also in our free telegram result channel!
💎Moreover, in our latest video shared exclusively in our free telegram stream channel, we provided you with our Bitcoin sell/short idea. This idea was presented when Bitcoin reached the resistance level of around $25,200. This resistance we highlighted 1 month ago in our previous free DOGE analysis HERE.
💎While others were gripped by bearish sentiment, the ParadiseTeam remained steadfast in our bullish outlook. We were ahead of the curve when we predicted the bottom at $16k in our free secret insight on 24th December. While many were selling off, we saw the bigger picture and shared our precise reasoning for why $16k is the HTF bottom zone.
💎In ourprevious free analysis(1 month ago), we also told you that "some of the altcoins are about to have one of the greatest rallies of their time" this prediction also went very well as Doge has already pumped from the major support zone for around 16% profit and after touching our LTF resistance highlighted in the chart, it has started to correct back down to the major support where it sits right now. Together with other strong alts, we took profit on with ParadiseFamilyVIPs already, as you know from our result channel we are quite happy with the month-long disbelief rally in the market, which proved many wrong and made money to others.
💎Yes, Bitcoin perfectly reached the resistance at $25,200, which we mentioned in our previous free update, before starting to correct. But It's important to note that this resistance it has yet to be broken! On the first touch, it would require a lot of bullish news to support the pump and break the strong supply zone. However, the opposite happened, as market makers started spreading FUD about Binance BUSD right at our resistance!
💎If you have been keeping up with our free telegram news channel, you might have come across the chaos caused by the recent bearish news on BUSD. The news generated significant FUD in the market, leading to a staggering $2 billion net outflow of BUSD, as seen in the graph HERE. This depletion caused the BUSD reserve to hit its lowest level since December 2021, and it currently stands at only 12.474 billion.
💎Most of the funds have moved to USDT, which has become the most reliable and trusted stablecoin in the market, with a market capitalisation of 70.1 billion dollars. USDC comes in second with an MC of 41.5 billion dollars.
💎Although the BUSD bearish news caused panic and wiped out $2 billion in Binance, it didn't have the same immediate impact as other less bearish news in the previous year that caused more chaos and faster reactions. Interestingly, people were stubborn and even opened many long positions right at the $25k resistance, which we warned against doing in our videos as a bad idea that would lead with a higher probability to a loss.
💎From a long-term perspective, the increasing demand for cryptocurrencies is a positive sign. People are becoming more resilient to negative news events. However, as professional traders, we must remain cautious. At ParadiseFamilyVIP, we follow our defensive trading strategy rules, and we withdrew our profits and closed most of our long positions and spot trades as a precaution. We accurately predicted the total bottom of Bitcoin at $16,800 on December 24th, and we don't anticipate the price to drop below that level this year. But to maximise our profits, we must also consider Short and Medium Time-Frame (MTF) market cycles. And from the MTF view, we expect this correction to continue for a bit longer.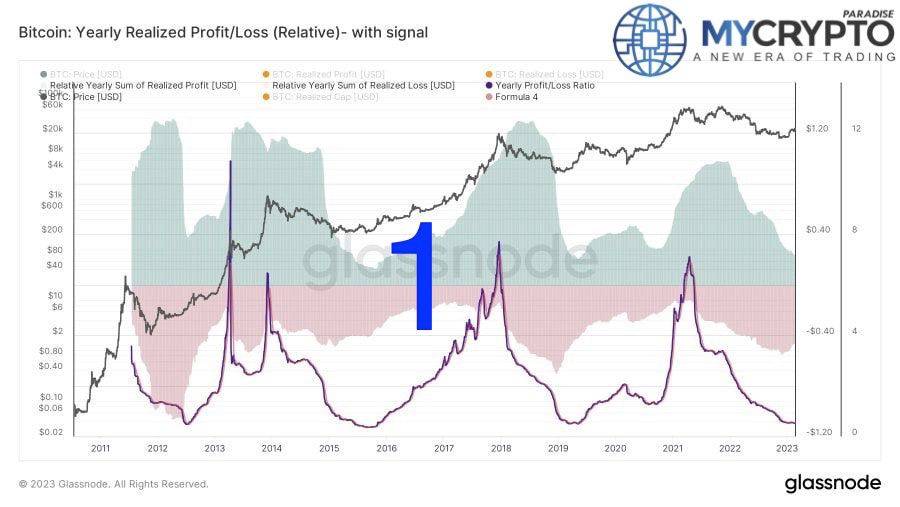 💎The reason we are able to state things with such confidence is not only because we do deep technical + fundamental analysis and monitor the market 24/7, but we are also looking at things not many other people pay really much attention to. Thanks to that, we can predict things more accurately than others. We care about your time, and we understand you are busy, so we will go through the exclusive data we are about to show you very quickly:
🔑One of the key on-chain indicators is the Bitcoin Yearly Realized Profit/Loss Ratio; it is a key indicator that shows the net profit and loss of Bitcoin holders who have moved their coins in the past year. This is a critical piece of data because it provides a clear picture of the sentiment of long-term Bitcoin holders. When this ratio is high, it means that long-term holders are selling their coins at a profit, which can be an indication of a bearish trend. And when the ratio is low, it means that long-term holders are holding onto their coins, which can be a sign of a bullish trend.
💎Currently, as evidenced by Chart 1, we find ourselves at the bottom of a 4-year cycle. This, coupled with attempts to FUD the market and our position at a MACRO Support area, provides insight into what is happening behind the scenes and what these big institutions are trying to do to you…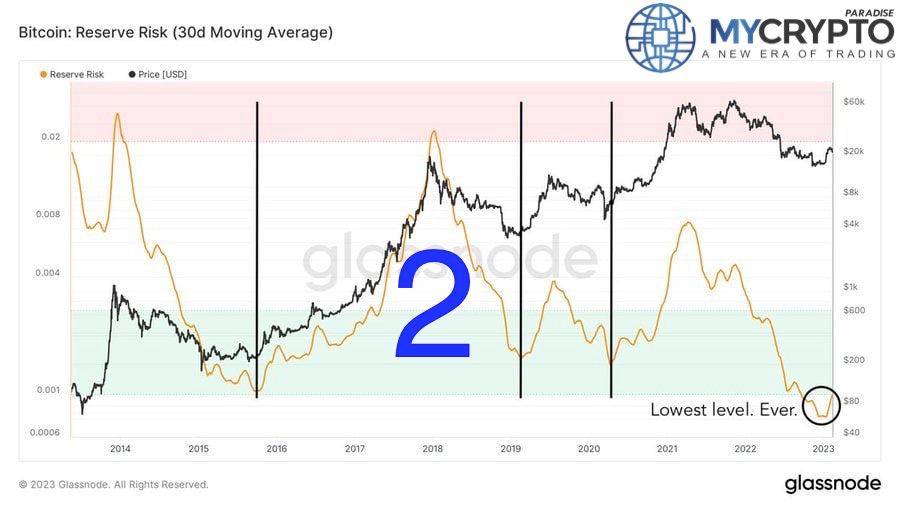 🔑The next on-chain data we want to show you is the Bitcoin Reserve/R indicator which measures long-term investor confidence in Bitcoin. It is calculated by dividing the price of Bitcoin by the total amount of Bitcoin held in all wallets older than 155 days (5 months) and then multiplying it by the number of Bitcoins held in those wallets. The theory behind the Reserve/R is that the longer someone holds Bitcoin, the less likely they are to sell it, indicating their confidence in the upcoming value growth. So when the Reserve/R is low, it means that long-term holders are confident in the value of Bitcoin and are not selling, while a high Reserve/R suggests that long-term holders may be more likely to sell, indicating less confidence in Bitcoin's upcoming price increase.
💎Chart 2 reveals that Bitcoin has reached its LOWEST LEVEL EVER recorded. This observation, combined with the other insights we've discussed, provides a clear picture of the market's direction for the next 3-6 years.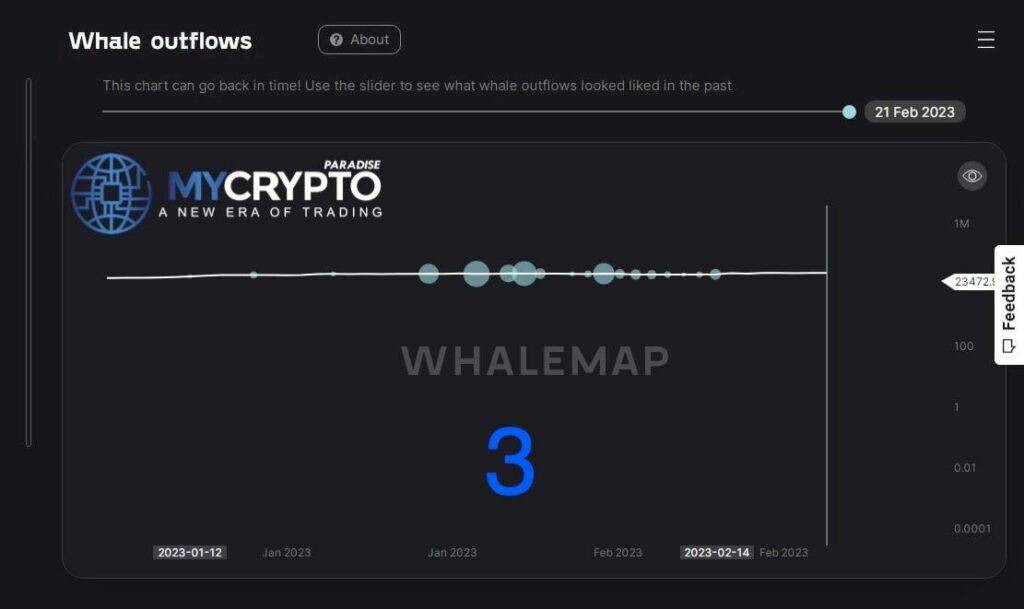 🔑In general, the demand for trading has been increasing, and investors are becoming more confident. However, to consistently generate profits, it's important to actively monitor lower time frames as well. According to recent BTC whale outflows data (Chart 3), insider whales have cashed out almost 11,000 BTC in the past two weeks. This data is a clear indication that market makers are taking their medium time-frame profits, and it's important to be cautious!
🔑Another key factor that supports why to be MTF bearish right now is the existence of unfilled gaps on the CME exchange for Bitcoin, specifically at $29,300 and $19,550. With Bitcoin's current price hovering around $23,500, we believe that the $19,550 gap will be closed first, given its closer proximity. Moreover, the sentiment among retail traders is alarmingly too bullish within this distribution structure Bitcoin is at right now, which is a cause for concern. We had observed a similar trend in the past when Bitcoin was at $16k levels, and we believe it is crucial to remain cautious and vigilant because the sentiment around retail was actually oppositely biased down there, and whales used their fear selling liquidity to push the market up at that time.
💎So our current projection for Bitcoin is clear. BTC is now trying to revisit the $25k resistance zone and it is possible that we get a second touch. BUT! Until we can break and close above our local top at around $25200, we anticipate closing the nearest CME gap at $19,550 first. Once we have established this level as support, we will target with ParadiseFamilyVIP members the upward CME gap at $29,300 next and then the previously mentioned next major resistance of Bitcoin at around $43k as a top of this HTF bull cycle. Our team has a proven track record of successful market predictions, and we are confident that this $43k target will be achieved within the next 6 months, provided everything goes
💎The MTF bearish projection is exactly why we are practising patience with our ParadiseFamilyVIP members right now. Having successfully sold altcoins and BTC at the top, which has decreased by around -9% since, we followed the idea we showed you in our last video and took profits on our other longs and spot buys as well. At present, we are awaiting a bullish confirmation before re-entering the market. Should that not happen, we expect the CME gap at $19550 to be hit and closed, and we will not hesitate to open new aggressive short-leverage positions to ride it down once we get another clear opportunity.
Continue Reading 👉CLICK HERE